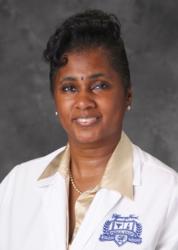 Detroit, Michigan (PRWEB) February 22, 2012
Henry Ford Health System physician Kimberlydawn Wisdom, M.D., has been appointed by President Barack Obama to serve as a Member of the Advisory Group on Prevention, Health Promotion, and Integrative and Public Health.
Dr. Wisdom currently serves as Senior Vice President of Community Health & Equity and the Chief Wellness officer at Henry Ford Health System.
As a member of the Advisory Group, Dr. Wisdom will advise the President's Cabinet on policy and provide program recommendations. The Advisory Group also advises the National Prevention Council on lifestyle-based chronic disease prevention and management, integrative health care practices, and health promotion.
The Advisory group was established in June of 2010 by the U.S. Department of Health and Human Services and reports to the U.S. Surgeon General.
"I am extremely proud that Dr. Wisdom has been chosen to share her expertise and passion for preventive health in a way that will now meaningfully impact the well-being of all Americans," says Nancy Schlichting, CEO of Henry Ford Health System.
"As a caring physician and innovative executive leader who is leading the way in addressing health care disparities, as well as the health and wellness needs, Dr. Wisdom is a role model for creating change within the health care industry."
Dr. Wisdom's 30-year career in health care includes developing innovative partnerships to improve community health. As the founding director of the Institute of Multicultural Health at Henry Ford Health System she developed AIMHI (African American Initiative for Male Health Improvement), a nationally recognized initiative that recently received the Michigan Association of Health Plans Pinnacle Award for Community Collaboration.
Dr. Wisdom is the recipient of the Gail and Lois Warden Endowed Chair on Multicultural Health for Henry Ford Health System and co-chairs the Henry Ford Healthcare Equity Campaign, which strives to address and eliminate health care disparities. The campaign goal is to increase awareness, cultural competency, and opportunities to ensure health care equity is practiced by Henry Ford providers, staff, researchers and the community at large – and to link health care equity as a key, measurable aspect of clinical quality.
From 2003 to 2010, Dr. Wisdom served as the first Surgeon General in Michigan and was instrumental in rebuilding the state's public health system.
In response to Detroit's infant mortality rate, among the nation's highest, the Detroit Regional Infant Mortality Reduction Task Force, chaired by Dr. Wisdom, is developing ground-breaking strategies to "sew up the safety net" as competing health systems and public health agencies collaborate to reduce infant mortality. The approach will create a sustainable template for future regional collaborations to close health disparities gaps and create a healthier community. Funding for the project is provided by the Robert Wood Johnson Foundation Local Funding Partnerships, The Kresge Foundation and other local partners.
Dr. Wisdom currently serves on the Satcher Health Leadership Board: the National Campaign to Prevent Teen and Unplanned Pregnancy Board; the Public Health Institute Board, and is the Honorary Chair of the Governor's Council (MI) on Physical Fitness, Health and Sports.
She is a board-certified Emergency Medicine physician at Henry Ford and serves as an assistant professor in the Department of Medical Education at the University of Michigan Medical School.
Dr. Wisdom earned her medical degree from the University of Michigan Medical School, her master's of science degree from the University of Michigan School of Public Health, and her bachelor's degree from the University of Pennsylvania.
# # #