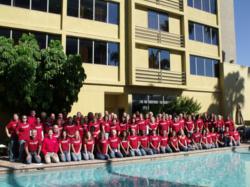 "We're thrilled to be able to welcome so many new employees and at the same time provide a needed boost for the local economy." Tom Wallace, CEO of VectorLearning
Tampa, FL (PRWEB) February 22, 2012
VectorLearning, eLearning pioneer and parent company of online continuing education providers RedVector and Care2Learn, announced plans this month to increase its workforce by nearly 25 percent in the coming year, once again defying U.S. job growth trends and demonstrating its deep commitment to stimulating the local economy and providing needed employment opportunities.
"2012 is set to be an exciting year for VectorLearning," says CEO Tom Wallace. "We're thrilled to be able to welcome so many new employees and at the same time provide a needed boost for the local economy. The growth and success of our company begins with its outstanding team of talented and dedicated professionals, and we look forward to continued growth and success this year and beyond."
VectorLearning has open positions in its Enterprise Sales, Direct Sales, Account Management, Content Development, Software Development and Marketing departments. Becoming a finalist for the fourth time in 2011, VectorLearning earned recognition from the Tampa Bay Business Journal as one of the area's Best Places to Work, and was a 2011 finalist for the Tampa Bay Technology Forum's Tech Company of the Year.
About VectorLearning
VectorLearning sets the standard for excellence in online continuing education and training for licensed and certified professionals in the architectural, engineering, construction (AEC) and post-acute healthcare industries. With an online library exceeding 1,400 courses authored by more than 200 subject matter experts and spanning all 50 states, VectorLearning serves more than 300,000 working professionals. The recipient of numerous community honors and industry awards, VectorLearning was founded in 1999 and is headquartered in Tampa, Florida. For further information call 1-866-546-1212 or visit http://www.VectorLearning.com.
###