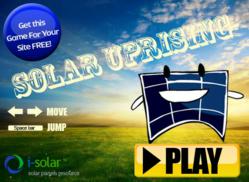 (PRWEB UK) 23 February 2012
Bristol-based solar experts, i-solar, today launched online game Solar Uprising to highlight the great rewards still available by installing solar panels. There has been a lot of confusion recently regarding the feed-in tariff which is dampening customer confidence.
The game features cartoon character Apollo the solar panel, who collects suns and blasts greedy bankers on his quest to reduce energy costs and help the environment. The game is free to play from the i-solar website and is available for anyone to add to their own site who wants to promote the cause.
Oliver Smith of i-solar, said "this is a fun, slightly tongue-in-cheek way to draw attention to what is a very serious issue. We understand that the government has had to make changes to how it subsidises the solar panel industry in the current economic climate. But it's the speed at which they've done it that has angered the industry."
Until the 3rd of March, homeowners that have solar photovoltaic's or solar PV systems installed on their roofs will receive a government-backed Feed-In Tariff that has guaranteed a healthy return on their investment. But with the tariff imminent reduction it's left consumers wondering whether installing solar panels is a viable proposition.
The government cites two reasons as to why the current tariff has had to be reduced. A reduction in technology costs has meant solar PV installation costs have fallen by 30%. And secondly, the popularity of households installing solar PV is on the increase. From June 2011 to September 2001 the number of installations doubled to 16,000. And subsidizing this number of installations in this current economic climate was unsustainable, according to the government.
"Nobody in the solar panel industry disagrees that the tariffs needed cutting to create long-term stability", says Oliver Smith. "But it's the manner in which it's been done: It's created an air of uncertainty within the industry and for people wishing to install. We want to make it clear that solar will still benefit those who choose to embrace the technology for decades to come.
A group of firms recently challenged the governments decision and won a High Court ruling, with the group indicating that not only could 25,000 jobs be put at risk, the Treasury could also lose up to £230 million in tax and VAT revenue.
"The government could have destroyed one of the few growth industries in the UK almost overnight." But due to the resilience of the industry, help from the high court and support from the people, the future is looking at least stable for the solar industry.
###