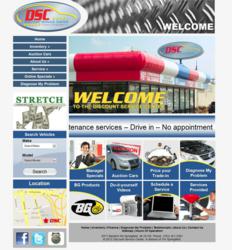 "We have been using AutoJini for our dealership needs for the last several years. AutoJini work create a higher level of web-based solutions."
Ames, Iowa (PRWEB) February 22, 2012
AutoJini provides clients in the retail automotive industry a complete suite of website tools, including custom website design, mobile websites, vehicle incentives & lease specials data, VIN decoding, integration of Google Analytics, Facebook applications , and search engine optimization services. AutoJini improves automobile dealerships' performance by managing inventory data from multiple sources, ensuring most accurate and up-to-date inventory on the the websites, and exporting inventory data to leading classified websites (both paid and free). This lowers the cost of online leads, leading to higher per unit profit.
Tony MacFarlane, Digital Marketing Specialist for the Discount Service Center, says, "We have been using AutoJini for our dealership needs for the last several years. AutoJini work create a higher level of web-based solutions, not the cookie cutter sites of other companies. In addition to creating fully functioning dealership websites, AutoJini also implements custom solutions to meet our diverse needs. Any dealership or dealer group which is looking for a reliable company – a company that understands the constantly evolving nature of the retail automotive industry – should use AutoJini."
Syed Azam, AutoJini's President, says "being able to provide custom solutions and consulting services to our dealers, whether franchise or pre-owned, is very crucial in ensuring our dealers are highly competitive in the market place. This implementation of configurable Online Diagnostic System for the service center of Discount Service Center is a demonstration of the fact that AutoJini is not a static website provider to the retail auto industry. We are a technology company that has the expertise and flexibility to implement custom solutions for our client dealers on-time and within budget."
About AutoJini.com:
AutoJini.com is the flagship product of Octadyne Systems. AutoJini is web-based software suite of solutions used by automobile dealers across North America. The AutoJini software suite includes the development and implementation of dealership websites, mobile websites, micro sites, Facebook applications, inventory management solutions, data export to 3rd parties, search engine optimization, social media marketing, and news and blog software.
AutoJini.com has offices in Ames, Iowa, U.S. and Kitchener, Ontario, Canada.
For more information, please contact Mr. Syed Azam by phone at (515) 232-.2024, or email at syed(at)AutoJini(dot)com Visit http://www.AutoJini.com for more details.
About Discount Service Center:
Discount Service Center is a Springfield, VA based auto dealership. The dealership sells quality pre-owned vehicles and also specializes in providing repair services to its clients.
The dealership is located in the to Arlington, Alexandria, Annandale, Fairfax and Woodbridge areas at the Springfield "Mixing Bowl:"; the intersection of I-395 and the Beltway in Springfield, VA.
For more details, please contact Tony MacFarlane (703) 243-1975 or visit the dealership website at:
http://www.discountservicectr.com
Phone: (703) 451-2381
###