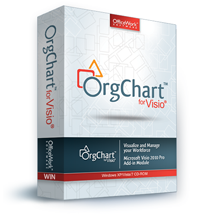 What a time-saver! Light-years beyond current Visio org chart capability
Novato, CA (PRWEB) February 22, 2012
OfficeWork Software Releases OrgChart for Visio bringing Workforce Management to Visio®.
OrgChart empowers enterprises to gain a better understanding of their needs today and in the future - that comes from analyzing, managing and visualizing, the workforce. With the release of the OrgChart for Visio add-in, OfficeWork has integrated the power and capabilities of OrgChart into Microsoft Visio 2010 Professional or Premium. OrgChart for Visio enhances Visio's existing organizational charting, data graphics, data-aggregation and reporting functions to transform Visio into a fully automated Workforce Management tool.
"In today's economic environment organizations are continuously changing - and so are their workforce needs. Just trying to find, create, update, monitor the organization and or validate its accuracy - puts everyone under 'fire drill' pressure" said Joe Kolinger, CEO of OfficeWork Software. "Now OrgChart for Visio makes it fast and easy for Enterprises to accurately model company-wide workforce data and keep their charts current. OrgChart for Visio was developed to integrate directly into Visio and the Microsoft ecosphere, making the process so much easier."
OrgChart for Visio brings key aspects of the workforce planning process to Visio, giving HR and managers the ability to:
Perform Critical Workforce Modeling:
Develop "What if" scenarios to illustrate proposed changes to the workforce from growth to costs, structure, reporting flight risks; assess key team members, performance ranking, tenure, promotion ranking and much more. Applications include:
o Succession Planning
o Talent Analysis
o Expertise Identification
o Merger and Acquisition planning
o Determine budget and FTE impacts of planned changes
Automatically create information-rich organizational charts from HR and Financial data
Designed for Visio 2010: Microsoft Visio and Office users will instantly adapt to OrgChart for Visio. Menus and Toolbars arranged for rapid workflow from concept to presentation. Context Menus and Help rapidly guide users through every stage of the organization chart creation process.
Refreshable Organization Charts: Charts always stay up-to-date. Connect organization charts with the company's data. Use Microsoft Excel, SQL Server, SharePoint Services, or any ODBC compliant database. Always keep the linked data in charts up-to-date effortlessly using Auto-Refresh.
Publish and Share Results: Create and publish organization charts to the Web, interactive PDF, Microsoft Office and even SharePoint.
OrgChart for Visio - solutions for managing, analyzing and visualizing the workforce with ease and accuracy.
Pricing and Availability
OrgChart for Visio is available at http://www.orgchartforvisio.com.
For a limited time OfficeWork is offering OrgChart for Visio at an Introductory price. Visit the website for details.
Contact OfficeWork for a free Webinar about OrgChart for Visio. For organizations over 1000 employees contact sales@OfficeWorkSoftware.com
A 30 Day Free Trial is available at http://orgchartforvisio.com/pricing.aspx
About OfficeWork Software:
Founded in 2005 OfficeWork Software is a leading provider of software that empowers companies to automate, analyze, visualize and manage their organizational and workforce resourcing requirements. For more information about OfficeWork Software or products visit our websites: http://www.officeworksoftware.com, http://www.orgchartpro.com, http://www.orgchartforvisio.com, http://www.turboproject.com
Press Contact:
Kristina Landies
Kristina(at)officeworkssoftware(dot)com
800 477 1408
Legal:
OfficeWork Software, OrgChart are trademarks of OfficeWork Software LLC. All other trademarks and product names are the property of their respective companies.
###