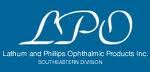 This is a must see show for professionals in the ophthalmic industry and be sure to drop by booth 1309
Atlanta, GA (PRWEB) February 22, 2012
SECO 2012 is The Education Destination®, optometry's most important and compelling annual event. The SECO 2012 program of education, exhibits and events offers optometrists and allied ophthalmic professionals the opportunity to develop the skills and knowledge needed to remain competitive in today's challenging optometric field. The show is now recognized as a significant international event, and the largest optometric educational meeting in the world. Latham & Phillips SE of Atlanta Georgia is proud to be an exhibitor in booth1309 at the show February 28th through March 4th.
Dale Streib of Latham & Phillips SE says, "this is a must see show for professionals in the ophthalmic industry". Latham and Phillips SE is the leader in selling and servicing some of the best brands and ophthalmic equipment to eye care clinics and hospitals. Dale says, 'there is a lot of new equipment he will be showcasing at the event.' Be sure to ask him about show specials.
SECO International attendees will include optometrists and allied ophthalmic professionals. They are offering over 36 hours of accredited, continuing education across 18 diverse courses of study. As always, we will keep you ahead of the curve with the best CE experience in the eye care industry—emphasizing future trends and technology, with a focus on what optometric practices may look like in the next decade or beyond. Continuing education classes and workshops there are not only informative but fun according to SECO representatives.
The SECO 2012 Saturday Night Party will feature country music star Laura Bell Bundy on March 3 at The Georgia Aquarium from 8:30 til 12:00. Bundy originated the role of Tina Denmark in the Off-Broadway musical Ruthless! The Musical. For this part, she was nominated for a 1993 Drama Desk Award for Outstanding Actress in a Musical. In 2002 she made her Broadway debut in the musical Hairspray, originating the role of Amber Von Tussle. Bundy was next a standby for both Kristin Chenoweth and Jennifer Laura Thompson in the role of Galinda in Wicked. From 2007 to 2008 she starred on Broadway in Legally Blonde: The Musical where she originated the lead role of Elle Woods, receiving her first Tony Award nomination for Best Leading Actress in a Musical. After leaving the show in July 2008 she was succeeded by Bailey Hanks, the winner of Legally Blonde - The Musical: The Search for Elle Woods.
A Note about Latham and Phillips SE:
Latham and Phillips SE is proud to be part of one of the leading ophthalmic instruments companies. With over 30 years' experience in sales and service, the company has highly trained ophthalmic technicians who work with their clients to fulfill their ophthalmic instrument needs. Our ophthalmic service department is all about keeping our customer's ophthalmic instruments operating at peak efficiency and to minimize down time. We want our clients to come back again and again to the Southeastern Division of Latham & Phillips to purchase their new or quality reconditioned / used ophthalmic equipment. Streib states, "We go the extra mile to provide the best in ophthalmic service that only Latham & Phillips SE can provide." In addition, their technicians are available for onsite instrument repair and service throughout the region. If needed, they can supply loaner ophthalmic instruments for clients that can't operate without a specific piece of equipment.
The trade show exhibit floor at SECO International will bring in close to an estimated 8000 attendees. It is optometry's largest single gathering and the most comprehensive display of ophthalmic equipment, services and supplies. If you have an opportunity to go to the show drop by booth 1309 and say hello to Dale and Thelma. Beside their hospitality; they can tell you about the latest and best selling new and used ophthalmic instruments.
This was released by Click Ready Marketing an Atlanta Search Marketing Agency.
###