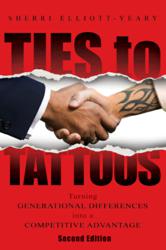 If your goal is to enhance communication, boost collaboration, and understanding in your workplace, read this book!

_Jean Danner, Director Corporate Human Resources - Tenet Healthcare Corporation
Dallas, Texas (PRWEB) February 28, 2012
In the second edition of "Ties to Tattoos: Turning Generational Differences into a Competitive Advantage," author, HR consultant, and generational speaker Sherri Elliott-Yeary, founder and CEO of human resources consulting companies Optimance Workforce Strategies and Gen InsYght in Plano, TX, bridges perceived and real gaps in today's multigenerational workforce.
For the first time in history, the American workforce is comprised of four distinct generations: Traditionalists, Boomers, Xers and Millennials—all of whom must coexist productively for a company to succeed.
In "Ties to Tattoos" Elliott-Yeary addresses this diversity and its implications. She offers readers her insight into today's multigenerational workforce and shows them how to turn generational differences into a business asset.
Elliott-Yeary discusses how to leverage relationships between Traditionalists who voted for Eisenhower, Boomers who worked out to Jane Fonda, Xers who listened to Nirvana and Millennials who can do all of that and more digitally. She illustrates that understanding generational issues not only allows companies to resolve conflicts but to boost productivity.
"The challenge in working with four generations is to get them to look past the stereotypes and to value what each generation can bring to the workplace," says Elliott-Yeary.
Dallas Morning News business columnist Cheryl Hall says,"'Ties to Tattoos' helps guide employers through the perils of four generations gathered simultaneously (but not necessarily in unison) in the work place."
Today's workforce brings with it a new set of challenges and opportunities: the looming labor shortage, sagging productivity, knowledge transfer, the language barrier and stereotypes.
"Ties to Tattoos" provides solutions to recruit, reward, manage, motivate, train and retain employees within that workforce and discusses how best to take advantage of the challenges and opportunities it creates.
"Sherri Elliott-Yeary is absolutely one of the best HR professionals I know, and her multi-generational expertise and training is excellent," says Carl E. Couch, MC, MMM, the vice president of healthcare improvement at Baylor Healthcare System. "It is based on sound HR principles that she uses every day in the workplace, as well as a wealth of experience in the field."
Adds Craig Litman, the vice president of Texas Recycling, "As we expanded from a company of five people to eighty-five people, we partnered with Sherri and Optimance to help us with the types of growing pains you'd expect in an organization that's getting larger. She helped us create an HR framework that has enabled us to be successful."
Ultimately, the creative people strategies outlined in "Ties to Tattoos" provide a blueprint for companies working toward a sustainable competitive advantage in the coming decade.
Generational Guru Sherri Elliott-Yeary is a senior professional in human resources and holds an associate designation in risk management. She has over fifteen years of experience as a trusted advisor and human resources consultant to companies ranging from small startups to international corporations. She has appeared as the keynote trainer on generational differences for Nissan, Rogers Glogal, Ericsson, Tenet Healthcare, Cross Tex Energy and JC Penney.
*All proceeds from "Ties to Tattoos" are being distributed to local area charities. To date, Elliott-Yeary has donated over $12,500.
To learn more visit: http://www.generationalguru.com and http://www.optimancestrategies.com
# # #