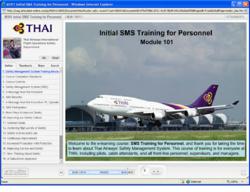 Many industry professionals are teaching SMS theory and concepts," states Salerno, "…but front-line personnel need tangible, easily-applied error-reducing strategies to better cope with unexpected events
Bangkok, Thailand (PRWEB) February 22, 2012
Working closely with senior members of the TG Flight Operations Safety Department, OAG recently completed a customized SMS e-course of training on Safety Management Systems for Thai Airways. Training began last week for their 10,000 + pilots and cabin attendants, as an essential component of the airline's SMS implementation. The course begins with key safety promotion messages from Thai Airways' President and Executive VP of Flight Operations, reaffirming senior management's commitment to a positive safety culture, continuous improvement, and the highest level of safety. Numerous vendors were considered through the company's formal selection and bidding process. "We selected OAG as our vendor due to their content and delivery of the SMS message" according to Captain Thongchai of TG's Flight Operations Safety Department.
THAI's e-Learning course: Initial SMS Training for Personnel goes beyond hazard identification and reporting to teach front-line personnel how to incorporate informal, time-critical safety-risk management into their daily activities. The course also teaches employees how to reduce preconditions for unsafe acts, and apply personal error-reducing strategies to daily job performance. "SMS concepts are presented with a strong company-promotion message that helps assure 'buy-in' from all employees, and motivates them to participate in the SMS; not just by reporting hazards and problems, but by becoming a part of the solution," according to Paul Salerno, President of OAG.
"Many industry professionals are teaching SMS theory and concepts," states Salerno, "and this is great for managers and safety department staff, but front-line personnel really need a different, more targeted message." Salerno continues: "Accidents occur on the front line, and front-line personnel need tangible, easily-applied error-reducing strategies to better cope with unexpected events."
In addition to customized courses of SMS training, OAG also delivers generic aviation SMS e-Learning courses to various aviation industry segments via the internet and OAG's Learning Management System (LMS). SMS course content includes instruction on SMS components of Safety Policy, Safety Risk Management, Safety Assurance, and Safety Policy, as well as the SHEL model of human interfaces, roles and responsibilities of personnel, Human Factors, the HFACS Human Factors Analysis and Classification System, and the many benefits that SMS provides to both the company and individual employees.
About Omni Air Group
Omni Air Group delivers the highest quality aviation safety management systems, SMS manuals, and the award-winning Incident Reporter™ SMS database to its global family of aviation service providers. OAG Safety Management Systems meet the highest SMS standards in the world, as established by ICAO, Transport Canada and the Federal Aviation Administration's SMS Assurance Guide.
Omni Air Group's mission is to promote positive safety cultures by delivering the highest quality training, systems, and services to our global aviation industry.
###