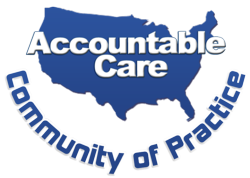 Our founding goals are focused on education, leadership, policy matters and the sharing of best practices
Atlanta, Georgia (PRWEB) February 20, 2012
The Accountable Care Community of Practice (ACCoP) today announced the acceptance of expanded membership applications through April 1, 2012.
Established in February, 2011 in anticipation of the Centers for Medicare and Medicaid Services (CMS) Shared Savings regulation and to aid the acceleration of private sector initiatives, the ACCoP is a consortium of healthcare information technology and healthcare delivery leadership organizations collaborating to benefit care providers and health systems developing care coordination and ACO models.
"Our founding goals are focused on education, leadership, policy matters and the sharing of best practices," said ACCoP co-chair Ben Wilson of Intel Corporation. "Our overriding goal is really to aid the effective and efficient adoption of health IT and care models to support the emergence of new payment and delivery programs we believe will continue to grow."
Membership applications and instructions can be found at http://www.accountablecarecop.com.
Current steering committee organizations include AT&T Inc., Cisco Systems, Inc., Dell Inc., Deloitte LLP, the eHealth Initiative, GE Healthcare, Greenway Medical Technologies, Inc., the Healthcare Information and Management Systems Society (HIMSS), Hewlett-Packard Development Company, LP, Intel Corporation, Intelligent Healthcare, Manatt, Phelps & Phillips, LLP, Microsoft Corp, OptumHealth, the Premier healthcare alliance, PricewaterhouseCoopers LLP and Siemens Healthcare.
"Since our founding a year ago, the Community of Practice has established effective ways to develop and communicate a consensus toward best practices that can set a national standard for not only sustainable and preventive care delivery, but in identifying and addressing the needs of providers and healthcare systems proactively embracing and navigating Shared Savings and related payment and delivery programs," said ACCoP Co-Chair Justin Barnes of Greenway Medical Technologies. "As CMS and private sector models form and accountable care becomes a reality, we welcome continued thought leadership that can only strengthen our healthcare system."
For more information, contact Martina Clark at info(at)accountablecarecop(dot)com
# # #