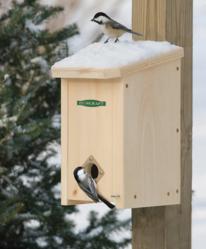 Concord, NH (PRWEB) February 21, 2012
In 1994, a resolution declaring February as National Bird Feeding Month was introduced into the Congressional Record by Illinois representative, John Porter. In his speech, the Honorable John Porter described to the Speaker of the House how February is one of the most difficult months for wild birds to survive. He encouraged Americans to provide food, water and shelter for wild birds. He also promoted bird feeding as an educational experience for children and a stress reliever for adults!
For non-migrating birds, February is a month of extreme cold, frozen water and diminished food supplies. Birds need to have lots of calories to give them energy while foraging in the daytime and to sustain warmth during the night when they're not feeding. Birds feed the most right before dusk to build up calories for overnight and again first thing in the morning to refuel. Make sure feeders are always kept full of seed and check them late in the afternoon.
Since birds eat so much more during winter, a hopper feeder with a locking roof is a good choice for a feeder, as is a platform feeder with a roof to help keep snow off the seed. Be sure to check after a storm that feeding ports are clear and the seed is not covered with snow. Seeds high in oil content, such as plain black oil sunflower seed is ideal. And feeding suet is a "must" during freezing winter months. Suet is pure fat, often mixed with seeds or peanuts, which provides high energy and the extra calories that birds need to stay warm. It can be offered in a suet feeder or just placed on a platform feeder. All winter birds crave suet and lots of it!
In winter, frozen water sources are a real hardship for birds. Birds need water to drink. If they don't get it, they will eat snow or find a place where ice is melting off the side of a house or from icicles. How much easier it would be for them if they had ice-free water! And birds need water in winter to keep their feathers clean. Dirty feathers don't insulate well and also make flight less efficient–clean feathers in winter are imperative. Purchasing a bird bath deicer, or perhaps a heated bird bath makes a huge difference in a wild bird's ability to survive. They're not very expensive and use little electricity. Most heaters and baths run at about 150 to 200 watts, and not continuously. That's equivalent to having a few light bulbs on now and then, and a small price to pay for helping winter birds.
Lastly, shelter provides a place for birds to take refuge at night from frigid winter winds. A place of shelter can be as simple as a dense brush pile in the backyard, or roosting boxes can be provided that are designed to maximize heat retention and minimize drafts. These are "houses" that have the opening at the bottom and roosting perches inside. Often many birds will gather together in the same roosting box and provide warmth for each other. Place the box in a sheltered area with the opening facing away from prevailing winds. Duncraft offers a Roosting Box that can be converted to a regular bird house in spring.
Along with helping birds, spreading the word about National Bird Feeding Month to friends and acquaintances is a great way to introduce more people to the hobby of bird feeding. It just may kindle a lifelong love of birds.
Founded in 1952 and located in Concord, New Hampshire, Duncraft's objective is to bring the joy of backyard birding to wild bird lovers all across the country. Mike Dunn, owner and CEO is constantly inventing and searching for innovative ideas in bird feeding—giving bird lovers years of bird feeding enjoyment, success and satisfaction.
Duncraft Wild Bird Superstore
102 Fisherville Road
Concord, NH 03303
Phone: 603-224-0200
Fax: 603-226-3735
# # #