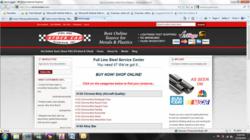 The commitment to the customer and the effort spent making sure we are 100% satisfied is first rate.

Lakey Cornelius
Parts Manager
Richard Childress Racing
Mooresville, North Carolina (PRWEB) February 22, 2012
Stock Car Steel & Aluminum, Inc. has launched a new online ecommerce site at stockcarsteel.com. The site offers a full line of raw materials featuring steel, aluminum, alloys and plastics.
Customers from the company's core base, the NASCAR industry, are featured on the site. They give testimonials that educate the average online buyer about doing business with an industry leader such as Stock Car Steel & Aluminum.
In addition to providing outstanding service and support to NASCAR race teams in their local market, Stock Car Steel & Aluminum also serves markets outside of the racing world. Some of these include many types of Manufacturing Companies, Machine Shops, the Marine Industry, the Construction Industry, various Educational, Vocational and University programs, Restoration Companies, Engineering Firms, Designers and Decorators, Hobbyists, Do-it-yourselfers, Artists and many, many more. They ship product nationally to all 50 states and internationally from New Zealand to Red Square!
Jody Hall, Parts / Purchasing Director at Earnhardt Ganassi Racing says "It has been a pleasure doing business with Stock Car Steel & Aluminum over the years. Their customer service is top notch! The staff is very knowledgeable and eager to help get me the materials that I need to finish the job. Keep up the great work!!"
Lakey Cornelius, Parts Manager at Richard Childress Racing says this; "It took us a while to give Greg a chance many, many years ago. We made him prove he was the man to beat on price and service. He sure developed a very loyal and dedicated customer here. We have learned we can depend on what we are told by Stock Car Steel and Aluminum employees and we put a high degree of trust in them. The commitment to the customer and the effort spent making sure we are 100% satisfied is first rate. You've passed the point of just being another vendor; you have become a valued partner to our entire organization."
Tony Laughlin, Director of Purchasing at Michael Waltrip Racing says "I wanted to send Kenny and Greg a note to let you know how much MWR appreciates everything that Stock Car Steel does for us. We know that we can trust you to give us fair prices and your service is second to none. Everyone that works there has always been willing to go the extra mile to get us what we need in a timely manner. Thanks very much and keep up the good work!"
About Stock Car Steel & Aluminum
Headquartered in Mooresville, N.C., Stock Car Steel and Aluminum supplies every type of raw material used in the racing industry including Carbon Steel, Aluminum, Aluminum Sheet Metal, Aluminum Angle Stock, Stainless Steel, Chrome Moly, DOM and ERW tubing, sheet metal, bars, plates, & structurals. Also headquartered in Mooresville, NC, Stock Car Steel and Aluminum's sister company, SRI-Supplies for Racing & Industry, offers a huge variety of fabrication and body shop supplies. SRI is a distributor of well respected names such as 3M, POP brand rivets, AVEX rivets, Camloc, Skybolt, Unbrako Socket Products, Dewalt, and L.S. Starrett. SRI specializes in Military-Spec racing fasteners, saw blades, abrasives, rivets, adhesives, epoxies, power tools, pneumatic tools, cutting tools, Scotchguard Paint Protection Film, Window Film / Tear-Offs, Racers Tape, Aluminum Foil Tape, Abrasive Cutting Tools, Camlocs, Socket Head products and much, much more.
###