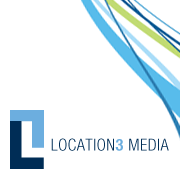 Our success can be tied back to our vision-increasing the findability and performance of our clients' digital marketing programs.
Denver, CO (PRWEB) February 21, 2012
Location3 Media continues to build on the exponential growth the company has experienced over the last three years. Gross revenue in 2011 increased 24 percent over 2010, on top of the 35 percent growth seen from 2009 to 2011.
In addition to supporting existing clients, such as AT&T, US Airways, and The Darden Restaurant Group, Location3 provided digital marketing solutions to 39 new clients in 2011 and an additional nine clients were added in January 2012. One new major client is The Center for Medical Weight Loss (CMWL). CMWL is the largest network of non-surgical medical weight loss providers in the United States. They needed a digital partner to improve paid search advertising campaigns for each of the many affiliated locations across the country. CMWL turned to Location3 to create and optimize more than 500 coordinated pay per click campaigns for search, display and mobile advertising. The new local search campaign launched in December 2011 and is already generating positive results.
"Local search is a crucial element to our marketing mix. We were impressed with Location3's capabilities and credentials as well as their track record of success for their other locally networked clients. We look forward to realizing the same great results for our network with our new partnership," says Kevin Eberly, CEO of The Center for Medical Weight Loss.
Eighteen new employees were hired in 2011 to provide excellent customer service, new technologies and integrated strategies for new and existing clients. This represents a 22 percent growth over 2010. An additional four new team members joined the company in January 2012. A majority of these hires are bolstering the Client Services Department's ability to provide optimized campaigns and personalized service. The Technology Team also brought in fresh talent to improve current proprietary tools and build new solutions for cross-channel tracking, reporting and analysis.
"Our success can be tied back to our vision—increasing the findability and performance of our clients' digital marketing programs," says Alex Porter, president of Location3 Media. "We're always working toward this objective, but we don't get pigeonholed into specific strategies or services. It's allowed us to be nimble and adapt in the ever-evolving digital environment."
This level of growth hasn't gone unnoticed. In 2011 the Denver Business Journal ranked Location3 Media as the tenth Fastest-Growing Private Company in the Denver area in the second flight. This annual list is based on percentage growth in the past three years, and groups companies from every vertical into five flights based on gross revenue. Location3 was also ranked #2214 on the Inc. 5000 list of fastest growing private companies in America. The Inc.5000 list is a supplement to the Inc.500, created to recognize the small and mid-sized companies that support the American economy. With these pieces in place Location3 hopes to continue this rapid expansion through 2012 and beyond.
For more information contact Angie Pascale: apascale(at)location3(dot)com | 720.881.8528 | @angiepascale.
About Location3 Media
Location3 is a digital marketing partner built to improve the findability and performance of consumer and multi-unit retail brands through enterprise-level and local digital marketing solutions. Founded in 1999 and located in the heart of Denver, Location3 has a staff of 70 full-time employees who service global, national and local brands. More than half of Location3's client base has worked with the agency for at least three years, as Location3 improves the findability and performance of every client they partner with.
# # #