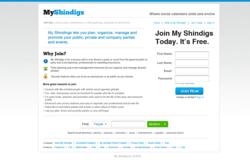 MyShindigs is best described as being about real people, real interaction, and real life experiences.
Boston, MA (PRWEB) February 22, 2012
More often than not social networking has been criticised for increasing daily hours wasted that could be better spent performing more quality activities like exercising or socializing in person. Many people spend on average 3 – 5 hours per day glued to their screens whether on a computer, tablet or smart phone without much reward in sometimes strange hunched down positions causing new, pop cultural terms to be introduced for the condition.
The timing of the launch of Myshindigs.com; a website that helps users plan, organize, promote and manage their social calendars could not have been more perfect. The website encourages the fostering of new real life connections and facilitates real life party and event environments. It is in these environments where people can meet others who share their social interests whether it be at a party dancing and listening to the DJ or discussing the current political situation over a cup of coffee.
'The main idea is to create your own adventure in life' says Matthew Tautt, Co-founder. MyShindigs is not only for the general public, but also venue owners, bands, brands that throw lifestyle events and all other service providers and professionals in the event and party planning space. The website has many new, unique features, but one of the more interesting ones allows the user to follow the parties and events of not only their friends, but other online users, collectively referred to as the Shindig Nation. Members receive an alert when a party or event is created by those they follow and if it's a public one the user can invite themselves to it instead of sitting hunched over a laptop adding virtual friends or waiting for the cell phone to ring all day. MyShindigs is best described as being about real people, real interaction and real experiences.
'In the first release we started with what we believed to be the pillars and foundation for the website to get people out of their homes and interacting with others, but the real revolutionary features are on the way in upcoming beta releases' Says Jason Andrews, Co-founder. 'We are very excited to be a part of the next generation and the evolution of social media as a whole' add Jason and Matthew.
While some people in Asia, Europe and South America have been signing up, the website has been primarily released for North America in early February 2012. These kings of leisure as the two company founders have come to be known have their eyes set on expanding the social lives of people of all ages all over the world.
MyShindigs.com has been catching the attention of venue owners across North America. Nyood Restaurant and Bar is one such establishment that has recently signed up. Nyood Co-owner Aaron Prothro says 'We recently used MyShindigs.com to organize and promote a Retro 80's party and had great success. What the marketing people liked the most is that the website's features help to better manage and promote parties, contacts and invites on an ongoing basis without the downfalls of some of the larger social websites which try to be everything to everyone rather than focusing on core features.'
MyShindigs seems to do a better job in protecting the privacy of members by allowing them to choose between a party nickname and their real name as well as implementing other event specific features.
'We see people's social lives as one long continuum rather than one event invite at a time. It was our decision to use the Shindig Calendar feature as the focal point on the site. The Shindig calendar is pivotal to managing a user's social agenda.' Say Jason and Matthew. Once an event has expired it becomes archived and can always be accessed along with all related images and videos.
'There is a lot of potential in using MyShindigs as one channel to promote parties and events using social media and we can't wait to see what the future has in store' says Aaron.
About MyShindigs
MyShindigs is a social networking platform that specializes in allowing members to plan, organize, manage and promote their public, private and company events and parties. MyShindigs allows users to search out, share, follow and join each other's events and parties of interest to expand their social calendar throughout their lives. For more information, visit http://www.myshindigs.com.
###