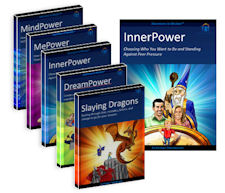 Austin, TX (PRWEB) February 21, 2012
After receiving requests by professionals who work with children to use the Adventures in Wisdom Life Coaching Program in their own organization, Adventures in Wisdom™ announces an affordable license agreement to enable counselors, coaches, educators, work shop leaders, and other professionals to use their mentoring toolkit with the children they serve.
Ten-minute stories teach skills that will last a lifetime!
The program uses creative short stories and activities to teach kids (ages 6-12) how to:

develop a mindset for happiness and success
handle peer pressure
think for themselves and make good decisions
move through fear; overcome mistakes and failure
live life with intention
achieve their goals
build self-confidence
create powerful self-esteem that doesn't rise and fall with the ups and downs of life
....and much more - 27 skills in all.
"Learning without lecture"
The toolkit includes 27 skill books each containing a children's guide and a mentor's guide. Each children's guide includes a fun short story to teach the skill, discussion questions to evoke deeper understanding, and activities to provide hand's on experience. Each mentor's guide provides background information and coaching tips.
"Our vision is to inspire and empower children to believe in themselves and their dreams and to teach them the skills they can use to reach their fullest potential. We know that we can't reach every child by ourselves so we are thrilled to offer professionals this opportunity to use Adventures in Wisdom with the kids they serve," shared Renaye Thornborrow, found and CEO of Adventures in Wisdom™. "Professionals can integrate the program into the great work they are already doing and use as much or as little of the program as they would like."
To learn more about the licensing programs and to receive a sample of one of the skill books go to http://adventuresinwisdom.com/do-you-work-with-kids/.
About Adventures in Wisdom
Based in Austin, Texas, Adventures in Wisdom is a breakthrough life coaching program for kids that uses short stories and activities to teach children ages 6-12 how to develop powerful self-esteem and self-confidence; achieve their goals; handle challenges such as fear, failure, and peer pressure; and create happy fulfilling lives. Kids learn over 25 personal development skills via skill books or audio programs that can be completed while at home or in the car. For more information call 860-580-WISE or visit http://www.AdventuresInWisdom.com.
# # #