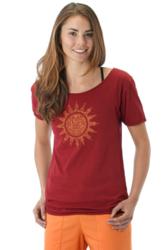 Denver, CO (PRWEB) February 21, 2012
Denver-based yoga clothing company, be present, recently introduced a new addition to its line of women's yoga wear, called the Hangout Tee.
be present is known for its commitment to environmentally friendly fabrics and domestically produced clothing. The Hangout Tee is the perfect addition to the line, as it is made from 100% organic cotton. As with all of be present's yoga clothing, this tee is made in the USA.
The tee is characterized by a loose fitting body with an open neckline. Various artworks printed on the front draw inspiration from yoga philosophies and include a Sun, Moon, Buddha and the words "be present." Each print is available on a different color top.
The Sun, or surya, represents the yang side of human energy, while the Moon, or chandra, represents the yin side of human energy. Buddha is surrounded by hearts and has the words "be present" printed underneath. The classic "be present" print is also available on this tee and is found throughout the entire be present collection, in both men's and women's styles.
While many of be present's yoga clothing styles are designed to withstand various types of yoga, this top is great to put on after practice or to wear around casually, making it a great compliment to any yoga wardrobe. It is available for sale at http://www.bepresent.com and retails at $35.
be present, clothing for the yoga lifestyle, was established in Colorado in 2002 by Amy Lopatin Dobrin and Jon Dobrin. All be present clothing is proudly made in the USA. The brand remains at the forefront of the yoga apparel industry, continually designing clothing that is original and functional.
For additional information, images and samples, please contact:
Maggie Mistovich
maggie(at)bepresent(dot)com
#303.228.4601
###