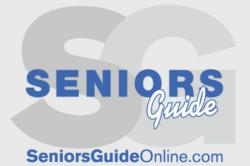 Again, proof that age is only a number.
Richmond, VA (PRWEB) February 22, 2012
Seniors Guide has announced the winners of their First Annual SENIORS GOT TALENT Video Showcase. The videos showcasing the vibrant side of being a Senior Citizen have been viewed over 9,000 times on the Seniors Guide YouTube Channel.
The winners were announced on http://www.SeniorsGuideOnline.com via a video that also gave honorable mention to the runners up, while also briefly announcing that there will be a 2012-2013 SENIORS GOT TALENT.
Cash prizes were given out to the top three talented senior videos that had the most views, comments and likes on the Seniors Guide YouTube Channel. Contestants had three months to pull their talented seniors together and submit a video. Submissions will be accepted during the months of August, September & October of 2012.
Video submissions came from Retirement Communities, Senior Centers and the talented Senior Citizens themselves. To obtain votes to win, submitters shared a link to their particular video with friends and family. Video submissions were also easily found on YouTube, Facebook and Twitter.
"It was amazing to see how people pulled together to create these submissions" states Katharine Ross, Director of Publishing for Seniors Guide. "The talent pool of our Greatest Generation is just limitless. The seniors seemed to really enjoy collaborating on these videos, and we had fun seeing them shine!"
Some of the popular videos came from Brookdale Senior Living in North Carolina, Rittenhouse Senior Living in Indianapolis, and Chesterfield Heights Retirement in Virginia. Other videos came from various Assisted Living and Independent Living Retirement Communities around the US.
One of the winning videos was the popular "Senior Citizens Perform Lady GaGa" from The Senior Center in Garner, North Carolina. Nancy Hulbert, Fitness Program Specialist for The Senior Center submitted the popular tribute to Lady GaGa.
Hulbert says, "We are just so overwhelmed and excited". Hulbert has big plans for their $500 prize. "We are thinking of purchasing a decent boom box, a video camera to tape our rehearsals or maybe towards costumes for next year."
"We can't thank Seniors Guide enough for hosting this contest. Again, proof that age is only a number."
For a full list of winners watch this video, and visit Seniors Guide Online at http://www.SeniorsGuideOnline.com for information on Senior Housing, Assisted Living, Independent Living, Skilled Nursing Care, Home Health, and Services for seniors in Bloomington, Indiana; Fort Wayne, Indiana; Indianapolis, Indiana; Charlottesville, Virginia; Richmond, Virginia; Roanoke-Lynchburg, Virginia; Cincinnati, Ohio; Dayton, Ohio; and Raleigh-Durham, North Carolina.
Seniors Guide, a Richmond, Va. -based company publishes Seniors Guide magazines throughout Cincinnati, Ohio; Dayton, Ohio; Indianapolis, Indiana; Raleigh-Durham, North Carolina; Richmond, Virginia; and Roanoke-Lynchburg, Virginia and features a correlating website of http://www.SeniorsGuideOnline.com. Seniors Guide's mission is to help seniors and their families find the information they need on options available in senior housing, senior care, assisted living, independent senior living, retirement communities and other retirement living needs. Seniors Guide also has resources at http://www.HomeCareChoice.com for Cincinnati, Ohio; Dayton, Ohio; Raleigh-Durham, North Carolina; and Richmond, VA. Ross Publishing, Seniors Guide's parent company, began in 1991 and has been publishing helpful, free publications and websites ever since.
###