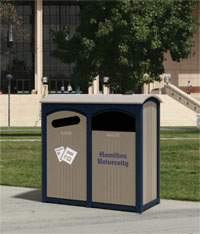 AASHE is clearly at the forefront of the sustainability movement and we are proud to be a part of that.
Sussex, WI (PRWEB) February 21, 2012
AASHE enables colleges and universities to meet their sustainability goals by providing specialized resources, professional development, and a network for sharing information about sustainability products and services. Membership covers the entire business or campus, so everyone can take advantage of event discounts, access to member-only resources, and other benefits.
"We are delighted to have Max-R on board and participating in the campus sustainability community," said Paul Rowland, executive director of AASHE. "Their involvement in AASHE demonstrates a commitment to working with higher education to create a just and sustainable future for all."
Among AASHE's major programs is the Sustainability Tracking, Assessment & Rating System (STARS), which provides higher education with a standardized, comprehensive self-assessment instrument. STARS metrics cover every sector of campus, from planning and administration to operations, to education and research. With STARS as a roadmap or guide, institutions can select meaningful and appropriate pathways to sustainability while conserving valuable resources, mitigating global warming, and building healthier communities.
"It is a pleasure to continue our working relationship with such a progressive organization," said Mark Hammer, Executive Vice President of Max-R. "AASHE is clearly at the forefront of the sustainability movement and we are proud to be a part of that."
Max-R has taken steps toward becoming a more sustainable company by streamlining its manufacturing process, earning its property the designation of a Certified Audubon Cooperative Sanctuary and becoming powered by 100% renewable energy. This vision of sustainability supports the company's offerings of tailored waste & recycling bins made of recycled plastic.
About AASHE
AASHE is an association of colleges and universities that are working to create a sustainable future. Its mission is to empower higher education to lead the sustainability transformation. It does this by providing resources, professional development, and a network of support to enable institutions of higher education to model and advance sustainability in everything they do, from governance and operations to education and research.
AASHE defines sustainability in an inclusive way, encompassing human and ecological health, social justice, secure livelihoods, and a better world for all generations. AASHE is a member-driven, independent 501(c)(3).
About Max-R
Max-R manufactures tailored waste & recycling bins, as well as benches, planters, message centers and a variety of site furnishings, all made of 97% pure recycled plastic – milk jugs. In fact, since the company's founding in 1997 they've reclaimed over 63 million milk jugs in their furnishings.
###