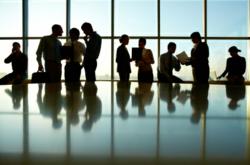 According to the Society of Human Resource Managers 53% of people lie in some way on their resume.
Jacksonville Beach, FL (PRWEB) February 22, 2012
"While everyone is horrified by child sexual abusers being gainfully employed without detection by their employers, it is important to understand that everyday the struggle to keep all types of criminals out of the workplace is a full time job. A job to be entrusted only to the most qualified professionals." states Don Dymer, president and chief executive officer of SingleSource Services background screening company. Dymer, with sixteen years experience in the background screening industry and a retired Inspector at Scotland Yard understands the landscape well. The Wall Street Journal said that 34% of all application forms contain outright lies about experience, education and the ability to perform essential functions of the job.
The U.S. Bureau of Labor Statistics reported 14 million people were unemployed as of Sept. 2011. While that may sound like a "employers market" with so many applicants per job opening, it also means that proper background screening has never been more important to ensure the safety of both co-workers and a businesses' clientele.
"The child sexual abuse situation at Penn State in the Fall of 2011 resulted in increasing people's awareness of the critical need for background checks and criminal record checking, which as a background screening professional I applaud," commented Dymer.
"As important as it is to screen employees and volunteers, it is equally important to scrutinize the background screening providers entrusted with that role." Dymer offers tips to those seeking background screening companies:
●Check references from other clients and independent customer services by such firms as Dunn & Bradstreet.
●Look for FCRA Certification through NAPBS.
●A commitment to validating all information supplied especially database records.
●Willingness to share and explain what the process of background screening entails and how they conduct their inquiries. They should ask you details about the job responsibilities to customize the most thorough background screening for your needs.
●A reliable service timeline based on results not promises.
●Do not shop price. Value is key. The lowest bidder is not likely the most reliable.
Dymer notes, " A reliable background screening program starts with ensuring that the appropriate steps have taken place before any reference checking or record checking begins. Applicant notification and permission are key. In order to effectively perform the background screening process, and in order for the information be valuable to the person requesting the background screen, you need to make sure that no one circumvents the compliance issues that would otherwise render confidential information gathered during such screenings invalid.
Right now the news is filled with stories of employees and volunteers who have been found guilty of child sexual abuse. Penn State reported that it has already cost them $3.2 million dollars in legal fees. The U.S. Department of commerce reports that employee crime, both blue collar and white collar costs business $45 to 50$ billion annually. "That report was based on figures before the latest reports of child sexual abuse across the nation surfaced," noted Dymer.
Business, organizations and non-profits need to understand the importance of thorough, reliable background screening. Employers lose 79% of negligent hiring lawsuits*.
For more information, please contact Don Dymer at http://www.singlesourceservices.com
SingleSource Services is located in Jacksonville Beach, Florida. The company provides background screening to over 2,500 business across a wide variety of industries and non-profit organizations. SingleSource was founded in 1995 and believes that backgrounds are like fingerprints and prides itself on its long term customer relationships and a strong commitment to fulfill its corporate civic duties.

2001 Public Personnel Management
# # #