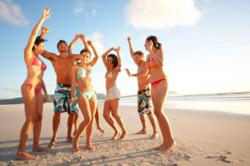 The Best Holidays are Party Holidays were you can mingle freely with fun loving and attractive people who know how to enjoy themselves and include you in life's celebration
Bridgetown Barbados (PRWEB) February 24, 2012
AXSES launches its world Party Destinations marketing initiative. In certain parts of the world, the party starts at midnight and does not end until noon. Whether travelers are in the mood to experience one of the most famous parties in America, Mardi Gras, or they want to spin their way through the trendiest techno clubs on the planet, Party-Destinations.com has got the scoop on the hottest party holiday places that attract a discerning crowd of attractive, fun-loving people. No matter what the mood there is always a festive occasion, a fete, gala to celebration somewhere in the world, for an active vacation getaway.
Through newsletters, videos and blogs, visitors find competitive hotel packages for interesting accommodations, such as the historic Chateau Bourbon , a New Orleans hotel that offers views of Larry Flynt's Hustler Club, or the five-star Ibiza Gran Hotel, which is sandwiched between two of the most revered super clubs in Spain.
Travelers can also unearth exclusive after-hours clubs in Mykonos, Greece, and discover which Caribbean island has rightfully earned the honor of being designated as the world's best party spot by Party-Destinations.com. Each well-researched recommendation introduces travelers to fun holiday spots where they can leave their inhibitions behind.
In the Caribbean, Party Destinations singles out Barbados as the top party place with something to do all day and night and with hotels and resorts catering to the fun and active traveller. There are daylight party sailing trips and the famous booze cruise of the Jolly Roger, moonlight romantic sailing, a submarine to enjoy the frolic of sea fish and deep sea creatures in an ocean of fun, and all forms of nightlife from jazz to reggae. The St. Lawerence Gap (the Gap) is the islands' most concentrated nightlife area, and here the Baywatch Hotels group offers mid range accommodation with 5 star service in the heart of night life, fine dining, dance and beach living at the Gap.
Party-Destinations.com is the newest offering from AXSES, an innovative company that creates customized travel portals to promote outstanding destinations using solution-oriented advertising techniques. One property per destination category is exclusively highlighted and is supported using innovative SEO strategies provided by SocialIndexing.com. Destinations are offered advanced travel marketing technology, professionally produced multimedia platforms and global information services, as well.
Destinations resorts, hotels and tourism operators that are seeking an effective, affordable and sustainable marketing campaign to active and fun holiday seekers are encouraged to contact Party-Destinations.com for a consultation.
About Us
A subsidiary of AXSES Inc., Party-Destinations.com offers travelers complimentary access to the most exciting party destinations on the planet. The website introduces exotic locales, uncovers elite accommodations and reveals exclusive clubs that are guaranteed to provide the party of a lifetime that travelers are seeking. See our Video on You Tube
AXSES is a leader in Social Marketing for Travel. It was one of the first companies to develop a direct bookings application for Facebook, and has consistently been an innovator is all aspects of travel marketing. In 2011, AXSES was featured by the New York Times in an article on Social Media use in Travel. See Tourism Marketing Platform
###