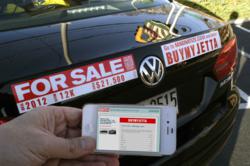 We want private-party sellers to get the full cash value they would otherwise lose by trading in.
Atlanta, GA (PRWEB) February 23, 2012
Magnatize.com has introduced an innovative Vehicle Selling Kit that adds safety measures to the private party selling process while moving the lowly For Sale sign into the digital age.
The Magnatize kit replaces the traditional For Sale sign with two high-visibility magnetic signs that link to an online ad. When an interested buyer sees a Magnatize sign on a vehicle, the buyer can scan the sign with a smartphone to get immediate details about the vehicle or send an email to the seller.
The Magnatize approach keeps the seller's phone number and email address private until the seller chooses otherwise. "Magnatize is all about ease and privacy," explains Jeff Hope of Magnatize. "Suppose you see a car for sale while you're out walking your dog. You're curious but not be ready to jump into a conversation. Just scan the sign to learn more about the car or email the seller."
"Private-party selling is a step-by-step process for both parties that starts with casual curiosity and leads to money changing hands," explains Hope. "Sellers need a game plan and some know-how."
The Magnatize Vehicle Selling Kit includes everything needed to sell a used-car or truck successfully. The seller creates a free online ad at Magnatize.com and links it to a set of magnetic signs that attach instantly to the car. The kit includes 2" vinyl letters and numbers for the signs, legal forms and a step-by-step online guide. A unique QR code lets prospective buyers click to view the ad with their smartphone. The ad can also be viewed on the Web. A check-off form manages buyer deposits, pre-sale inspections, repairs and terms.
""If you don't own a house, a vehicle is your number one capital asset," explains Michael Higgins, company president. "We want to help people put more cash in their pocket while making the process as safe and painless as possible."
The Magnatize Car Selling Kit retails for $11.95 and can be purchased at selected Lowe's stores and online at Magnatize.com or contact the company for retail availability.A product launch video is available for viewing.
About Magnatize
Magnatize, Inc. develops innovative selling tools to support consumers and small business owners. The Magnatize Vehicle Selling Kit was developed to make private-party vehicle sales safer and easier for consumers – especially for first-time sellers and for women. Retail opportunities are available here. The company is privately held and located in Decatur, GA.
###