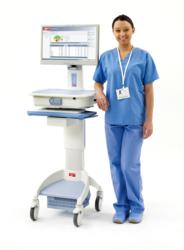 "Our new power systems are designed to provide the longest runtimes, rapid recharging and robust, worry-free performance
-Rob Sobie, vice president of healthcare marketing, Metro
Wilkes-Barre, Pa. (PRWEB) February 22, 2012
Metro, a world leading provider of technology, storage and transport solutions for healthcare facilities, today premiered its next generation Li-Nano (Lithium-iron Nano-phosphate) power system along with the newest version of their intelligent management and monitoring system, MetroMonitor™ Dashboard System version 2.1. These new innovations are the latest point-of-care computing advancements being introduced at the Metro booth (#1329) during the HIMSS (Healthcare Information Management System Society) Annual Conference & Exhibition in Las Vegas, Nevada.
"As hospitals adopt and expand mobile computing strategies, we understand how critical uptime is to keeping caregivers efficient and a facility running smoothly," said Rob Sobie, vice president of healthcare marketing at Metro. "Our new power systems, including our market-leading Li-Nano power option, are designed to provide the longest runtimes, rapid recharging and robust, worry-free performance."
With this introduction, Metro expands its power system suite with options to accommodate the technology, budget and workflow of departments and facilities of all sizes. The Li-Nano power option provides runtimes up to 12 hours, an industry-leading 2 hour recharge time, and a long-lasting battery life of over 5,000 cycles. For facilities that require 24/7 uptime, Metro also offers a professional grade swappable power solution featuring lightweight Li-Ion batteries.
To further compliment its power portfolio, the latest version of the web-based, enterprise-wide MetroMonitor™ Dashboard System provides robust reporting, real-time text message updates, and other advanced features to optimize workstation performance, streamline fleet management and increase workstation uptime.
"The MetroMonitor Dashboard System allows our customers to proactively monitor the power systems and computing technology on their Metro Mobile Computing Workstations to support fleet readiness and reliability," said Sobie. "The new alert management functionality and advanced reporting capabilities will support predictive maintenance and efficient fleet management for virtually any healthcare facility."
For more information on Metro Point-of-Care Computing and the diverse breadth of healthcare solutions from Metro, visit http://www.metro.com/pointofcare.
About InterMetro
For more than 80 years, InterMetro has been the world's leading manufacturer of technology, storage and transport solutions in healthcare, food service, commercial and consumer products. Committed to understanding the needs of customers and channel partners, Metro provides complete solutions that optimize space, improve workflow and ensure overall safety. InterMetro is a business of Emerson. For more information, visit http://www.metro.com.
About Emerson
Emerson (NYSE: EMR), based in St. Louis, Missouri (USA), is a global leader in bringing technology and engineering together to provide innovative solutions for customers in industrial, commercial, and consumer markets through its network power, process management, industrial automation, climate technologies, and tools and storage businesses. Sales in fiscal 2011 were $24.2 billion. For more information, visit http://www.emerson.com.
###