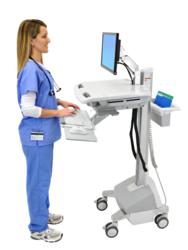 St. Paul, MN (PRWEB) February 21, 2012
Balancing caregiver requirements for ease of use and increased productivity with administration's IT investment security concerns is the motivation behind the redesign of Ergotron's StyleView® EMR cart portfolio. Unveiled at HIMSS'12 in Las Vegas, NV (booth 4002), the redesigned StyleView EMR cart portfolio incorporates a patent-pending new head unit designed to significantly reduce workflow interruption as well as IT support needs.
The redesigned StyleView EMR cart features a new slide-open design which provides caregivers easier access to essential CPU or laptop power buttons during shut-down situations. To further ease of use, the cart's new three-piece interlocking worksurface offers superior cleanability and protection against accidental spills. Additionally, the cart introduces redundant security features to the industry which provide further deterrents against data tampering or theft.
With Ergotron's new StyleView EMR cart portfolio, nurses and other healthcare providers now have the most expansive choice of ergonomic, lightweight and highly configurable mobile computing carts. Compatible with an extensive range of CPUs, laptops, tablet PCs and LCD monitors, the redesigned unit is now wide enough to accommodate closed 17.3" (44 cm) laptops or USFF CPUs.
"We are eliminating the headaches associated with technology management in the caregiver's daily routine with this redesign, giving them broader access to their equipment while simultaneously enhancing the security of the computing devices," said Pete Segar, president of Ergotron branded products. "These new carts are now upgradable with future drawer systems to give customers a point-of-care solution that will grow with them. Finally, we have dramatically reduced the time required to setup and integrate these new carts."
The StyleView EMR cart, specially designed for for Electronic Medical Record keeping, is available in several non-powered and powered configurations; including with LiFe battery technology, which allows for faster recharge to ensure ultimate caregiver and cart uptime, as well as minimized time and cost for maintenance and replacement. The redesign also offers advanced cable management. The carts ship fully assembled, cutting integration time in half for large scale deployments or upgrades, especially in conjunction with Ergotron Service Programs. Available April 2012.
Ergotron will display its entire line of healthcare solutions at HIMSS'12, booth 4002. For more information about Ergotron's StyleView point-of-care portfolio, please visit StyleView.ergotron.com. For more information about Ergotron's entire product line visit http://www.ergotron.com or call 800-888-8458.
About Ergotron
Ergotron, Inc. is a global manufacturer of leading digital display mounting, furniture, and mobility products that have been improving the human interface with digital displays for over 30 years. This history of innovation and passion for differentiation is evidenced in over 70 patents and a growing portfolio of award winning brands—OmniMount, StyleView, TeachWell, WorkFit and Neo-Flex—for computer monitors, notebooks, tablets, flat panel displays and TVs. Ergotron's products incorporate patented CF lift and pivot motion technology to achieve less effort and more ergonomic motion for a healthier and more interactive user experience when viewing any digital display. Whether to enhance computing wellness or entertainment excitement, improve workplace productivity or create business process efficiencies, Ergotron's products are positioning your digital world. Ergotron is headquartered in Saint Paul, Minnesota, with sales efforts in Phoenix, Amersfoort, London, the Netherlands, Tokyo, and Singapore.
Press contact: Michelle Judd, mjudd(at)ergotron(dot)com
# # #