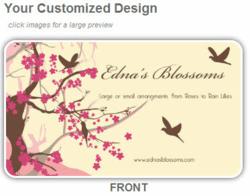 The kind of customer who purchases rounded corner business cards is usually detailed, choosey. They want to stand out.
Thousand Oaks, CA (PRWEB) February 23, 2012
Today Egency.com - an emerging ecommerce site offering always-premium, customizable business cards, flyers and postcards – unveiled a new product feature; rounded corners for business cards.
"We've added rounded corner business cards as an option on all of our high quality business card designs," said Jay Fayloga, Egency's Director of Product Management. "The cards are professionally cut to ensure a smooth, round curve that will set your card apart from the rest."
Rounded corner business cards are now available as Egency premium 2 x 3.5 business cards on high quality, 16 point super-thick card stock. All current and future design templates will render perfectly to fit straight or round corner formats.
Customers are able to preview the rounded look on Egency.com – after customizing a design and before purchasing. Each order is now complete with a complimentary Premium Package, including double-sided printing, high-quality, thick paper board, and a high-resolution PDF copy of the customized design.
"It definitely is an extra benefit – rounded corners," says Brian Harned, Prepress Manager with Digital Marketing and Print Solutions of Carrollton, Texas. "The kind of customer who purchases rounded corner business cards is usually detailed, choosey. They want to stand out."
A general print industry perception is that rounded cards are popular mostly with creative professionals. But U.S.-based generated orders show the curved cards have gained popularity with sales and consulting professionals, the dental and medical field, as well as travel agents and small business entrepreneurs.
"I think it's classy," claims part-time real estate agent Debbie Morris, Carmel, Indiana. "I like the rounded corners because the cards fit well in my card holder … or even my wallet. They don't get those little turned down corners that straight cards might get. I also think the shape makes it easier for my clients to remember me and find my card if they have a pile of other realtor cards."
At the same time Egency is growing new product features, it is also lowering price points on some products. Egency's Fayloga explains the commitment to quality will not be lost. "As Egency continues to grow, we are beginning to realize improvements in our processes. This allows us to pass the savings on to our customers, but at the same time maintain the high quality of our premium products."
Pricing of 100 single-sided business cards is now $29.00. One hundred postcards and 100 half-page flyers begin at $57.00. Prices include 16 point card stock for business cards, postcards, and half-page flyers, and crease-resistant, triple-blade coated galerie art silk for 8.5 x 11 full page-flyers. All orders qualify for free shipping and no sales tax at this time.
Egency also has introduced a new 300 quantity option. All business card, postcard and flyer orders are available in units of 100, 300, 500, value-priced 1,000, 3,000 and 5,000.
"This will add a new dimension," adds Harned, referring to the new rounded-edge look. Harned said with Egency's "nice, thick cardstock" the rounded-edge business cards will "come across as better looking, more detailed...it will get more attention."
Egency, based in Thousand Oaks, Calif., provides high-quality, customizable business cards, marketing postcards and flyers for dentists, event planners, cosmetic surgeons, salon/spa professionals, realtors and other professions.
###