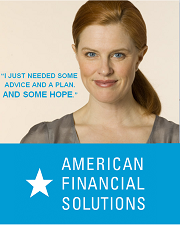 Rather than a savings account, the credit card becomes the safety net.
Seattle, WA (PRWEB) February 22, 2012
According to the Federal Reserve, consumer debt rose 7.5% over the fourth quarter of last year. While this may be an indicator that the economy is recovering, it is also a concern because the increased borrowing is occurring with credit cards as opposed to so called, good debt like homes, education and autos. In addition, consumer wages have been sluggish. For consumers, now is the time to be very cautious regarding any purchases made with credit.
Jeffrey and Rebecca (last name is withheld for privacy) are a married couple with five children who sought credit counseling at American Financial Solutions in 2007. After experiencing high medical bills, she and her husband were having difficulty paying their monthly expenses. Both worked, but, "the money wasn't enough to get us on track. We relied on credit cards for everything," said Rebecca.
Rebecca acknowledges, "I told the credit counselor that we could not close our credit cards, because we needed them for emergencies. When the counselor asked me what I had been using the card for, I couldn't answer. That's when I understood I needed to change how I looked at credit."
According to Becky House, Education Manager at American Financial Solutions, Rebecca's response is not uncommon. "Most people cannot tell you what the majority of debt on their credit cards was for. It could be tires for the car, dinner out, clothing – after a while people just don't remember. They just keep writing the check. Rather than a savings account, the card becomes the safety net."
Good Debts
Three forms of debt are generally considered to be good reasons to borrow money. These include mortgages, student loans and automobile purchases. To understand why these debts are better than, say credit card debt, you have to look at what the money is used for.
[1]With a mortgage you are buying something real – something that exists, has value and will increase in value over the years.
[2] Student loans buy education and opportunity. The possibility to advance and improve earnings is real with a degree.
[3] Automobiles have value in getting to and from work as well as providing other transportation. They help with reliability especially if you live in an area where public transportation is limited. In addtion, they are a real, tangible item.
Even good debts have a limit and there are quick rules of thumb that can help someone determine if they are taking on more debt than is reasonable, given their financial situation.
[1] Mortgage payments should be approximately 28% or less of the families or individual's monthly income.
[2] When borrowing student loans, keep the amount you borrow equal to or less than the amount of income you will earn the first year you come out of school. Use grants and scholarships as much as possible.
[3] When purchasing a car, complete a thorough budget and determine how much you can comfortably pay back. Keep your total debt payments (home, car, credit cards, student loans, etc.) under 36% of your income. Also shop around for the best interest rate and payment terms.
Looking back, Rebecca sees the value in having credit cards to build credit, but not to borrow money. "We purchased our first home in May. It's wonderful, but when I think about all the money I spent paying off credit card debt, well, I could have had 20% of my mortgage paid off by now," she says with a smile.
If you are looking for best way to use your income to pay off debt, talk to a certified credit counselor. They can help you explore your budget and all of your debt management options. Take the first step towards being debt free today.
American Financial Solutions (AFS) is a non-profit 501(c)3 financial education and credit counseling agency that helps people find solutions for managing their money and improving their financial lives. Since 1999, AFS has helped individuals across the United States through one-on-one counseling, classes and the use of debt management plans. AFS is a member of the National Foundation for Credit Counseling (NFCC) as well as the Association for Independent Consumer Credit Counseling Agencies (AICCCA). AFS is also accredited by the Council on Accreditation (COA) and has an A+ rating by the Better Business Bureau. Find us and add us on Facebook, Twitter and Google+ .
###