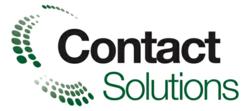 "We continuously improve the customer experience and transform call center processes-- all while reducing customer service expenses," said Paul Logan, CEO of Contact Solutions.
Reston, VA (PRWEB) February 21, 2012
Contact Solutions, a leading provider of cloud-based contact automation solutions, grew revenue by 15% in 2011, more than 60% faster than the hosted IVR market based on leading analyst estimates. In addition to solidifying its position among market share leaders, the company achieved multiple performance milestones during the year.
"We continuously improve the customer experience and transform call center processes-- all while reducing customer service expenses," said Paul Logan, CEO of Contact Solutions. "Our clients continue to recognize tremendous value in what we offer far past the initial activation date as a result of our Continuous Improvement Program. Our growth is outpacing the market as enterprises leverage our self-service solutions."
Contact Solutions has maintained a laser focus on continuous improvement since the company was founded nearly a decade ago. Its dedicated team of continuous improvement professionals regularly analyzes hundreds of deployed solutions for opportunities to increase performance for years after a system goes live. As a result, Contact Solutions clients benefit from a steady stream of recommendations that result in higher customer satisfaction and further reductions in the number of calls routed to contact center agents.
The company's attention to both customer experience and call center cost savings led to the achievement of several important milestones in 2011:
Customer Experience

Launched a breakthrough methodology to measure, manage, and continuously improve customer experience in contact centers
Recipient of the prestigious Frost & Sullivan Product Differentiation Excellence Award
Delivered programs to benchmark IVR customer experience ratings in several industries
Continuous Improvement

Identified nearly $20 million in new call center cost savings opportunities for existing customers
Recommended over 1500 continuous improvement modifications to enhance performance of existing customer IVR applications
Growth and Implementation

Deployed more than 80 new contact automation solutions for customers
Set records for transaction volume in both IVR and SMS
Expanded professional team by 35% and added a fourth secure data center
As Contact Solutions celebrates its 10th anniversary, it continues to have record backlog of bookings scheduled for deployment in 2012 and is positioned well for continued growth. The company is currently doubling the office space in its Reston, Virginia headquarters, and has plans to continue hiring aggressively well into 2012.
About Contact Solutions
Contact Solutions provides industry-leading customer service by automating millions of customer interactions each day on behalf of our large enterprise and government clients. Our clients achieve superior lifetime ROI and higher customer experience ratings for their automated solutions because, for years after initial deployment, our unique Continuous Improvement Practice keeps raising the bar on performance. We systematically increase automation rates to lower costs and simultaneously provide our clients with the information they need to make data-driven business decisions that affect customer satisfaction. Our cloud-based multichannel platform supports customer interactions via hosted IVR, mobile web, SMS text messaging, email, fax, and web transactions. Contact Solutions is one of the top five largest hosted IVR providers in North America by market share, and received a 2011 Product Differentiation Excellence Award from Frost & Sullivan for our Customer Experience (CX) Framework.
###