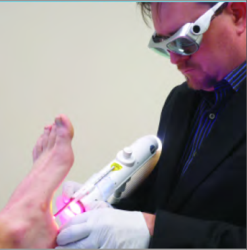 Tarrytown, NY (PRWEB) February 22, 2012
The LightPod Forte™ is a 1064nm gold-standard laser for podiatry (Nd:YAG) with more than a 90% success rate in nail treatment. It emits energy in a gentle pulse lasting for a 0.65 millisecond on the foot or ankle, coagulating soft tissue including warts, fungal material, vascular formations, telangiectasias (spider veins), scars and even tattoos. The maintenance-free LightPod Forte passes its laser energy through the nail plate or the epidermis, delivering most of its heat into the targeted tissue for maximum results, diminishing or completely eliminating undesired tissue structures.
Due to the ground breaking technology behind the LightPod Forte laser™, podiatrists can treat their patients with advanced laser technology in multiple locations at a fraction of the cost of bulkier lasers. For patients, treatment is less painful, less expensive and less time-consuming. Patients no longer have to rely on prescription meds or topical antifungals, or endure dangerous side effects. The Forte's uniquely powerful 51 joules/cm2 on a 5mm spot is what allows the podiatric treatment to be quick, equating to an incredible less than one minute per nail. The true magic of the LightPod Forte™ though lies is in the unique mix of the high power laser and the pulse duration, making this breakthrough laser technology effective yet tolerable for the patient.
Besides the satisfaction of successfully treating their patients, thanks to the versatile LightPod Forte™ laser, podiatrists can also generate new revenue streams for their practice. First, due to shorter nail treatment time compared to the lower power laser alternatives, podiatrists are able to see more patients per week, sometimes even possibly fitting them in between medical patients' visits. Second, because it's the only truly portable high power laser, the LightPod Forte™ can be used in multiple clinics and serve a much wider geographical market. Finally, let's not forget word-of-mouth advertising and referrals. With a success rate this good that has even been published in peer-reviewed journals, it's only a matter of time before the word spreads and business grows.
But don't let the size of Aerolase's latest nail treatment innovation fool you. The breakthrough technology behind the LightPod Forte™ is what makes it so compact. But even at 22 lbs. this portable podiatry machine is even more powerful than any other generation of laser technologies that have been on the market before it. Plus, the LightPod lasers are cleared by the FDA and the European regulatory authorities (CE mark), so you know it's safe. For more information on the technology behind this nail treatment laser, contact Aerolase® at 914.345.8300 or at Aerolase.com to learn more about the LightPod Forte™.
About Aerolase®: Founded in 1996, Aerolase® is the world leader in the miniaturization of high powered medical lasers such as the LightPod Forte™, LightPod Neo™ and the LightPod Era™. This laser technology company provides new levels of clinical versatility, practical utility and cost-effectiveness for all its clinicians and aesthetic specialists in podiatry, dermatology, cosmetic surgery, and aesthetics and rejuvenation. Aerolase® is continuously releasing new compact laser technology systems for a broad range of applications.
###