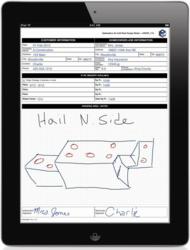 MIAMISBURG, OHIO and ORLANDO, FLORIDA (PRWEB) February 22, 2012
ExpeData®, an innovative software company and global leader in natural input technologies, and Estimators on Call (EOC), a leader in professional estimating services for the restoration industry, will demonstrate the latest solutions for mobile data capture and claims processing in booth #877 at the 2012 International Roofing Expo on February 22-24, 2012 in Orlando, Florida.
ExpeData and EOC have joined forces to unveil naturalCLAIMS, a next generation estimating solution that leverages mobile data capture on tablets to provide unsurpassed accuracy and streamlined claims processing workflows. Utilizing the EDW® digital writing platform from ExpeData, the solution allows estimators and contractors to easily and efficiently complete data collection forms on iOS and Android tablets using natural input such as handwriting. The solution also supports the capture of notes, voice memos, photos, drawings, handwritten signatures and GPS coordinates. Since the solution is built upon the market-leading EDW® platform, it supports data capture from both tablets and also from paper forms using Anoto® digital pens.
The data captured is used by EOC to provide intelligent estimating services utilizing a consistent and complete process with multi-point audit and review, proprietary tools, EagleView™ aerial measurements and the Xactimate™ estimating system. EOC offers decades of experience as contractors and adjusters to the roofing and claims industries and specializes in providing on-time, accurate estimates for residential and commercial losses. naturalCLAIMS further enhances the accuracy and efficiency of claims processing while delivering significant cost savings.
Visit booth 877 to learn how naturalCLAIMS eliminates the inefficiencies of processing paper claims and provides substantial cost savings while helping contractors work more effectively with insurance companies during the claims process. By outsourcing estimation and claims processing, contractors benefit from significant improvements in productivity allowing more time to focus on increasing their client base and completing existing projects faster and more profitably.
About ExpeData®
ExpeData is an innovative software company and a global leader in natural input technologies. ExpeData has created an end-to-end software platform that automates the collection of natural input including handwriting at the point of entry. Information captured with tablets or digital pens is immediately converted to digital data and seamlessly integrated to backend systems. Straight-through processing eliminates cycle time delays, resulting in unsurpassed workflow optimization and significant cost savings. EDW solutions are used across the globe, delivering value in multiple industries. To learn more, visit http://www.expedata.net and download the free naturalFORMS® demo app on the App Store℠.
About Estimators on Call
Estimators On Call Services, Inc. is a service company that combines consulting and technology to bring a unique solution to the restoration industry. With training, scope writing, and project management as the main focus, EOC provides a repeatable, scalable process for contractors and insurance companies alike. EOC provides on-time, accurate estimates using the Xactimate™ estimating system, proprietary tools, and EagleView® aerial measurements. For more information, contact Estimators on Call at (877) 407-4044 or at http://www.estimatorsoncall.com.
ExpeData, and marks shown with an ® are owned by ExpeData or their respective owners, and registered with the U.S. Patent and Trademark Office. Other trademarks, such as product and service names, found on ExpeData web sites are owned by ExpeData or by third parties. "Anoto" and the Anoto logotype are trademarks owned by Anoto AB. iPad is a trademark of Apple, Inc., registered in the U.S. and other countries. App Store is a service mark of Apple, Inc.
###