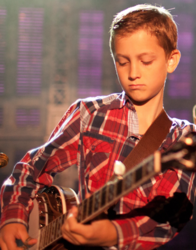 Lebanon Township, NJ (PRWEB) February 21, 2012
The Sleepy Man Banjo Boys' independently released and distributed 'America's Music' debuted at #8 on the Billboard Bluegrass Album chart this week. The album, a collection of songs spanning decades of Bluegrass favorites, has been propelled by strong digital sales, national radio spins, and a flourishing audience of over 5.5 million viewing their bedroom practice videos on YouTube. The trio's first effort has also sold nearly 5,000 physical copies through its website since its release in September, all without the muscle of retail distribution.
Brothers Jonny (9), Robbie (13), and Tommy Mizzone (14) became a viral sensation last winter sparking a whirlwind year that would include performances on The Late Show with David Letterman, NBC's Today Show, The Mike Huckabee Show, and the Grand Ole Opry. In August they were recognized by Martin Guitar as official Martin Guitar Ambassadors, a high honor from the largest producer of acoustic guitars in the United States.
The boys are humbled to be charting on Billboard alongside of some of the Bluegrass greats that inspired them, and are already hard at work on their next album including all-new original material tentatively set for a Summer release
YouTube: http://www.youtube.com/sleepymanbanjoboys
Facebook: http://www.facebook.com/sleepymanbanjo
Twitter: @sleepymanbanjo
Web: http://www.sleepymanbanjoboys.com/
###