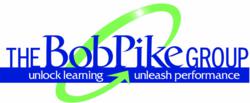 "We are thrilled to be bringing the Boot Camp experience to Australia and look forward to up-skilling Australian trainers, both new and experienced, with the proven Bob Pike Group methods and models.", Marc Ratcliffe, MRWED CEO
Eden Prairie, MN (PRWEB) February 22, 2012
MRWED Training and Assessment, Australia's leading provider of the nationally recognized Certificate IV & Diploma of Training and Assessment, has completed a rigorous three-part certification process to become licensed to deliver Bob Pike's world famous Train-the-Trainer Boot Camp. No other organization in Australia is licensed to provide Bob's proprietary Participant-Centered alternatives to traditional lecture-based training.
MRWED specializes in Training Australia's Trainers - more than 17,500 students have undertaken Trainer and Assessor qualifications with MRWED since 2000. "The Bob Pike Group is thrilled to bring onto its global team an organization for whom the business of training is results, long-term relationships, integrity, and professionalism," stated Bob Pike, Chairman and CEO. Pike added, "Marc Ratcliffe, MRWED founder and CEO, and MRWED 2010-2011 Trainer of the Year, Jason Ash, bring a natural charisma and thorough understanding of the Participant-centered methodology to their training delivery. Their clients can expect the same high quality, dynamic learning experience from Marc and Jason as they could expect from me."
MRWED's delivery of Bob Pike's Train-the-Trainer Boot Camp occurs monthly as a public seminar, alternating between locations in Sydney, Melbourne, and Brisbane. Custom onsite programs can be delivered upon request.
Robert W. Pike, CSP, CPAE, International Speaker Hall of Fame, founded The Bob Pike Group in 1979. Bob is the pioneer of the Participant-Centered training method. More than 125,000 people have gone through his Train-the-Trainer Boot Camp and more than 200,000 copies of his Creative Training Techniques® Handbook have been sold.
There is simply no one in the training industry as well known and respected. ASTD has termed Bob "The Trainer's Trainer" – he has been a featured speaker at their international conference since 1977. In 2007, the Instructional Systems Association voted Bob one of the 20 most influential training professionals and he received ISA's prestigious Thought Leader Award. Bob is one of only 47 people worldwide to hold both the Certified Speaking Professional and the Council of Peers Award of Excellence from the National Speakers Association.
Bob's company, The Bob Pike Group is the industry leader in designing effective training solutions and developing exceptional trainers. Clients dramatically improve training efficiency and effectiveness through Bob's proprietary methodology, Participant-Centered Training.
MRWED provides regular courses in Adelaide, Brisbane, Melbourne, Newcastle, Perth and Sydney. For self-paced learners anywhere in Australia we provide Correspondence and Online Training Programs backed by our dedicated Learning Support Team. MRWED has conducted over 800 public courses and dozens of customized programs in nationally recognized Trainer Training including the new Certificate IV in Training and Assessment TAE40110.
###