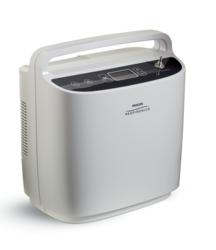 "Finally there is a portable oxygen concentrator available for patients requiring continuous flow oxygen, but who desire the convenience of a lightweight machine."
Centennial, CO (PRWEB) February 23, 2012
American Medical Sales and Repair (AMSR) and Oxygen Concentrator Store is proud to announce the release of the Respironics SimplyGo Portable Oxygen Concentrator. The SimplyGo incorporates improvements on the Respironics EverGo Pulse Dose only machine and includes suggestions from patients and physicians.
The Respironics SimplyGo Portable Oxygen Concentrator is the new evolution of oxygen concentrators that combines lightweight construction and an attractive design. The SimplyGo offers continuous flow and pulse dose delivery in one unit. It is also one of the lightest concentrators on the market, weighing in at 10 pounds. It has twice the oxygen output of any portable concentrator weighing less than 10 pounds. The SimplyGo has a non-clinical design for the active patient that includes a long-life compressor, high-quality parts, and a high impact resistant design.
Lori Peters, Registered Respiratory Therapist at AMSR said of the new SimplyGo, "Finally there is a portable oxygen concentrator available for patients requiring continuous flow oxygen, but who desire the convenience of a lightweight machine."
The Respironics SimplyGo features include:

Continuous flow (2 LPM), pulse dose (1-6), and sleep modes.
Light Weight at 10 pounds
Attractive, sleek design
Easy-to-remove battery
Intuitive, easy-to-read screen
Oxygen Concentrator Store features the lowest web pricing with a pricing match guarantee on the SimplyGo. Basic SimplyGo packages include the SimplyGo unit, carrying case, mobile cart, rechargeable battery, AC and DC power cords and accessory bag.
About Oxygen Concentrators Store and AMSR:
With more than 20 years experience in the industry, AMSR and Oxygen Concentrator Store is one of the largest web based providers of oxygen concentrators. AMSR provides the highest quality service available. The mission of AMSR and Oxygen Concentrator Store is to help the customer get the best product for the best value when renting or buying an oxygen concentrator, as well as by providing the best on-going customer care.
Oxygen Concentrator Store is home to one of the largest inventories of portable and home oxygen concentrators and their accessories on the web. Additionally, the Oxygen Concentrator Store is accredited by the Better Business Bureau with an A+ rating. American Medical Sales and Repair offers a customer-oriented philosophy that provides the best service and warranty available in the industry.
Learn more at http://www.oxygenconcentratorstore.com or join us on Facebook at http://www.facebook.com/AmericanMedicalSales
For PR contact and sales inquiries please contact sridl(at)amsrco(dot)com or call AMSR at 303-483-7155
###