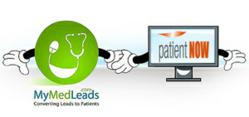 With this integration, we aim to provide a comprehensive infrastructure for seamless workflow automation between these two powerful tools
Austin, TX (PRWEB) February 21, 2012
MyMedLeads, a lead management tool for the medical industry has announced their strategic integration with PatientNOW, a leading provider of EMR technology and practice management software. This new partnership will offer medical practices a fully integrated solution to tracking their online and offline marketing (such as print, yellow pages, SEO or pay per click) and scheduling them directly into PatientNOW without having to manually enter patient information. This agreement means that users will now be able to marry the sophisticated ROI tracking technology and lead conversion tools of MyMedLeads with PatientNOW's comprehensive and robust practice management capabilities.
Where office staff previously spent extra time transferring data captured by phone calls or form submissions to their practice management software, the integration will make scheduling from MyMedLeads into PatientNOW a simple, automated process. When practices rely on manual data entry alone, leads often get lost or mismanaged. MyMedLeads captures, manages and nurtures 100% of leads coming in via phone or form submissions. Once leads are ready to schedule, MyMedLeads incorporates with PatientNOW for seamless integration. This secure system meets the growing need of medical practices to unify and synchronize the tremendous amount of information healthcare firms generate.
"We are pleased to welcome PatientNOW as a partner, given their strong reputation in the plastic surgery industry." said Enrique Rangel, president and CEO of MyMedLeads. "More and more of our clients are requesting an integrated solution for tracking their marketing efforts and improving staff performance. With this integration, we aim to provide a comprehensive infrastructure for seamless workflow automation between these two powerful tools".
About PatientNOW
PatientNOW is the ONE EMR and Practice Management solution that provides everything for your plastic surgery practice. From initial contact through delivery of services, PatientNOW tracks and documents every step. Automated patient follow-up, appointments, patient portal, photos, clinical data, encounter note, e-prescribe, order labs, patient survey, quotes, invoices, gift cards, birthday reminders and procedure reminders. Increase your revenue and run your office more efficiently.
Take Medicare? PatientNOW offers a complete Certified EMR allowing you to receive reimbursement up to $44,000. We guide you through the whole process. 800-436-3150 or http://www.patientnow.com
About MyMedLeads
MyMedLeads is a lead management tool that integrates with your marketing to capture 100% of leads, manage used by medical practices to convert leads into patients. This tool helps office staff manage incoming 'leads' until the prospect is ready to schedule a consultation. MyMedLeads easily integrates with your website to help manage appointments and prevent no-shows. Call 512-301-9715 or visit http://www.MyMedLeads.com for more information.
# # #