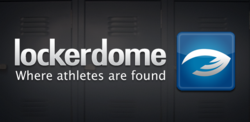 We are confident that LockerDome will impress everyone there as the social network for athletes that is sweeping the nation.
Saint Louis, MO (PRWEB) February 21, 2012
LockerDome, a social sports community, announced today that it has been selected as the only St. Louis-based company to present at the prestigious Silicon Valley Bank Showcase event on March 22, in Silicon Valley.
The Silicon Valley Bank Showcase, which began more than a decade ago, features early-stage startups in the software and services industry including consumer Internet, digital media, mobile, enterprise software, SaaS, infrastructure software, cloud computing, data management, and digital health companies.
LockerDome is one of only 25 companies across the country to be selected for the event, and will give of a 7-minute presentation to over 100 venture capitalists and angel investors.
"We are excited and proud that one of our portfolio companies has been selected to present at this highly-regarded event, and are confident that LockerDome will impress everyone there as the social network for athletes that is sweeping the nation," remarked Judy Sindecuse, Managing Partner of Capital Innovators, an early-stage technology fund based in St. Louis.
"The Silicon Valley Bank Showcase is a great platform for LockerDome to gain national exposure to the investor community. We're honored to be the only company from St. Louis that was selected to present," commented LockerDome co-founder and CEO, Gabe Lozano.
In January, LockerDome announced that Jim McKelvey, co-founder of Square, a billion-dollar mobile payments device company, is one of its investors and a member of its Board of Directors. That news was right on the heels of LockerDome closing a $750K angel financing round.
LockerDome continues to build momentum. More than 550 of the top amateur sports programs, such as the Houston Dynamo Juniors, have launched their own LockerDome networks, which serve as their own private social network where their athletes, coaches, and parents can create profiles, upload media, and gain national exposure. LockerDome has doubled each of the last two quarters and is on pace to more than double again in Q1.
LockerDome is also quickly gaining traction with celebrity and brand networks, which integrate celebrity athletes' sports identities and media brands side-by-side with amateur athletes, fans, and the rest of the LockerDome sports community. Since the beginning of January, already more than 50 such networks have been launched, such as with Chris Duncan, a former St. Louis Cardinals baseball player and current radio host for 101ESPN.
About LockerDome
LockerDome is a social networking site for sports. Just like Facebook is your personal persona and LinkedIn is your professional persona, LockerDome is your sports persona. LockerDome works with youth sports programs across the United States to launch private team and league networks, connecting their athletes and teams with other programs across the country. LockerDome allows you to join sports networks for the teams you currently play on and have played for in the past. In addition, you can follow professional athletes who are part of the LockerDome celebrity network. With a LockerDome ID, an athlete's sports memories are accessible in one place, forever. Learn more about LockerDome at lockerdome.com.
About Capital Innovators
Capital Innovators provides tech startups with the seed funding, resources, and connections they need to get to the next level. The Capital Innovators 12-Week Accelerator Program provides $50,000 in seed funding, project-based mentorship from a seasoned pool of knowledgeable entrepreneurs, stellar perks, educational and social events, and the opportunity to pitch to angel investors and venture capital firms. Although hundreds of applications are received for the Accelerator Program each year, only five companies are accepted per class. Two classes are run each year – one in the fall, and one in the spring. Learn more about Capital Innovators at capitalinnovators.com.
###