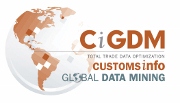 Eden, Utah (PRWEB) February 20, 2012
CUSTOMS Info announced a new feature that will allow users to be notified immediately of HTS code changes via email.

CUSTOMS Info provides the world's most comprehensive trade data repository delivered via web-based subscription.
Harmonized Tariff Schedule (HTS) codes are used to classify goods for Importing and exporting.
Ci Alerts allow subscribers of CUSTOMS Info to be alerted when specific, self-selected HTS Codes change.
Subscribers receive these alerts to reclassify their goods quickly and stay in compliance with customs law.
Subscribers should look for the grey plus sign box next to the code they want to track.
For a tutorial on how to use this new feature, go to: http://www.customsinfo.com/Industry-Blog/ci-updates/bid/124401/New-Ci-Alert-Feature-on-CUSTOMS-Info-Subscription-Site
About CiGDM:
CUSTOMS Info (Ci) and its sister company Global Data Mining (GDM) help businesses optimize global trade management (GTM) systems and streamline global trade automation. Ci provides the world's most comprehensive trade data repository delivered via web-based subscription, API web services or as data to populate any GTM or Landed Cost application. Ci is the largest provider of duty and tax content for international e-commerce with hundreds of e-commerce sites utilizing our data to provide accurate landed cost information. Our data and services provide faster deliveries and fewer border delays. GDM helps multi-national companies increase the informational value of trade data and the productivity of global trade staff to reduce operating costs, improve customs compliance, accelerate supply chain speed and maximize the return on investment of this corporate function. Areas of expertise include customs classification research, customs auditing and trade data analytics/business intelligence.
Working in conjunction with GTM applications, Global Data Mining and CUSTOMS Info's strategic partners include SAP, Oracle, and other trade software partners. Please visit http://www.customsinfo.com , http://www.gdmllc.com for more information.
###