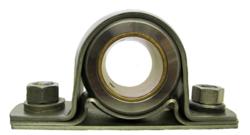 Oshkosh, WI (PRWEB) February 21, 2012
As the economy attempts to recover, Triangle Manufacturing has noticed an abundance of companies trying to find ways to cut costs without cutting quality. One such customer designs and manufactures machines and equipment used in the automotive industry and recently came to Triangle with a problem. They required lower costs, but without having to forfeit needed attributes such as accuracy, availability and ruggedness.
This customer used heavy duty cast iron pillow block mountings because they required a very large bore size that wasn't compatible with any other mountings. These cast iron mountings held ball bearings, even though the application didn't require them. They were forced to use bulky bearings that were "too strong" because of the unavailability of the needed bore size.
After using these expensive bearings and mountings, the manufacturer came to Triangle seeking a better alternative, both in cost and weight. Triangle's engineering team recommended using a new large stamped pillow block mounting. Stamped mountings do not have strength equal to that of cast iron, but many applications don't require the brute power and overkill that cast iron provides. Triangle provided a full assembly: a cold rolled steel stamped housing, an iron ball and a bronze sleeve with a bore of 1.72".
This exchange led to immense cost-savings, even at a low volume. The cost differences are significant; many cast iron mountings are 3-4 times more expensive than their stamped counterparts. This auto equipment manufacturer found a lighter, less expensive bearing and mounting without sacrificing needed strength or durability. When space, weight or cost is a concern, stamped housings are the economical choice for many automotive, conveying and agricultural applications.
About Triangle Manufacturing
For almost a century, Triangle Manufacturing Company, located in Oshkosh, Wisconsin; has used creative engineering, technical know-how and advanced automation to be the leader in fully customizable metal fabrication, product innovation and invention. We've introduced and redesigned fresh products that are progressive in their respective industries. Whether you need lazy susan bearings and HVAC components or rod ends and custom mountings for direct- drive and belt-driven motors, you can Consider It Done with Triangle Manufacturing.
###