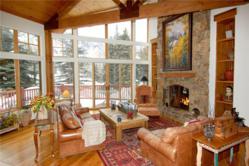 Vacation home rentals in Aspen have been popular, but the addition of Park Avenue Estate will give us a new dimension in luxury accommodations
Aspen, Colorado (PRWEB) February 21, 2012
Gondola Resorts, one of the fastest growing vacation rental companies in Colorado, announced the addition of "Park Avenue Estate" in Aspen today. The Aspen rental home combines a prime location just seven blocks from downtown shopping, restaurants, ski lifts and the Aspen Gondola.
The six bedroom, five bath luxury home features vaulted ceilings and a large living room with expansive views of Aspen Mountain. Knotty pine wood floors meet guests throughout the entryway, and massive beams are highlighted with ageless antique furniture throughout the home.
"The addition of Park Avenue Estate will help us expand our luxury rental home presence and allow our guests to choose from another great rental home near attractions in downtown Aspen," said Gondola Resorts General Manager, Gino Malara. "Vacation home rentals in Aspen have been popular, but the addition of Park Avenue Estate will give us a new dimension in luxury accommodations. It also has a per night rental cost that is unbeatable in the marketplace."
The new luxury single family home is priced from $1,500 to $3,800 per night with the highest rates during holidays.
Park Avenue Estate is the newest offering that expands Gondola Resorts' inventory to over 200 luxury condos, homes and villas in Aspen. The company also offers private residence club condos at The Aspen Highlands Ritz-Carlton, Hyatt Grand Aspen and the celebrity favorite, St. Regis.
Other amenities at this amazing private home include a top-floor deck with views of Aspen Mountain. The deck is accompanied by an 8 person hot tub and barbecue grill. To make life even more convenient, the sixth bedroom offers its own efficiency kitchen to avoid those late night trips to the kitchen. The business office includes free wireless internet access and a gas fireplace. Most bathrooms offer jetted tubs and steam showers while the media room comes wired with full surround sound. Other amenities include a full-size wet bar, private garage parking, a grocery elevator and HD flat screen TV's.
All Aspen guests of Gondola Resorts receive complimentary passes to the Aspen Club & Spa, the valley's premier full-service spa and workout facility.
The Aspen Club is a private membership club and offers highly advanced fitness programming, the world-renowned "SpaAspen" and the internationally recognized Sports Medicine Institute. The institute boasts a healing center that combines time-honored knowledge with contemporary medicine. The Aspen Club's majestic setting attracts those in need of fitness, adventure and pampering. The club invites the outdoors in with skylights, large windows and Colorado's natural elements throughout 77,000 square feet of open space.
Additionally, guests of Gondola Resorts receive free limousine transfers from Aspen's Pitkin County airport from Smiddy Limousine Service.
About Gondola Resorts, Inc.
Denver-based Gondola Resorts specializes in Colorado, Utah and Florida vacation rentals. It is currently offering rental homes, condos and villas in Aspen, Breckenridge, Copper Mountain, Deer Valley, Keystone, Orlando, Park City, Steamboat Springs, The Canyons and Telluride. For information on Gondola Resorts, call (303) 420-9963 or go to http://www.gondolaresorts.com.
###