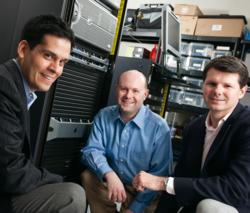 In professional services industries such as architecture and design, technology has been the great leveler. Armed with the same applications and tools as larger firms, small and midsize businesses are able to capture a larger share of the market.
Fort Worth, Texas (PRWEB) February 21, 2012
Consuro Managed Technology and Hahnfeld Hoffer Stanford, two north Texas companies, are the subjects of a Dell(TM) Inc. Customer Case Study published on Dell's website. Consuro, a premier Texas-based managed technology services company serving businesses from start-ups to Fortune 100 companies, worked with client Hahnfeld Hoffer Stanford, an architecture, planning and interior design firm, to refresh its IT systems to improve performance availability and scalability while keeping costs down.
The case study highlights the benefits achieved by Hahnfeld Hoffer Stanford through its work with Consuro. According to the Dell report, "In professional services industries such as architecture and design, technology has been the great leveler. Armed with the same applications and tools as larger firms, small and midsize businesses are able to capture a larger share of the market."
To accomplish Hahnfeld Hoffer Stanford's goals, Consuro --- an IT consultant group and local Dell certified partner --- worked closely with the client's Director of Information Technology, Jason Adams, and Eric Hahnfeld, AIA, President. Together, the team implemented a Dell and Microsoft infrastructure, helping the architecture firm be more productive and efficient, and to enhance competitive positioning.
Consuro met with Hahnfeld Hoffer Stanford to understand their business, and then created a technology plan to specifically meet the client's needs. According to Mr. Adams, this methodology resulted in surprising cost savings.
"Consuro developed a virtualization plan that saved us 50 percent compared to scaling the traditional way of buying more hardware to fix the problem," said Mr. Adams.
"We deliver much more than hardware," added Ben Tiblets, Consuro co-president. "We analyze each client's specific business then develop a custom plan. Our multiple solutions guide our clients as they choose what is best for their company. Then we show them how to leverage the systems for their needs."
Not only is Hahnfeld Hoffer Stanford seeing improvement in their infrastructure, they also recognize increased employee productivity. The firm's 29 registered architects, interior designers and architectural interns primarily use Autodesk Revit® Architecture design application. Previously, employees experienced about five to six minutes lag time in saving Revit® files, often 200 megabytes or more per file, which could add up to one hour per day per user.
"By deploying Dell EqualLogic storage, we eliminated lag time in saving Revit files. Our users are each getting as much as a full hour back of design time every working day," said Mr. Adams. "That hour per day multiplied by these architects working 50 weeks a year yields 4000 annual reclaimed productivity hours for the firm."
According to Mr. Hahnfeld, the Hahnfeld Hoffer Stanford team enjoys many other benefits as a result of the technological transition, including:

50 percent cost savings through the use of virtual servers versus physical servers
40 percent less IT staff time spent managing servers
50-60 percent decrease in planned downtime
disaster recovery back-up every 24 hours versus one time per week
recovery retrieval improvement to a few hours versus a few days.
"We have a culture of innovation at Hahnfeld Hoffer Stanford," continued Mr. Hahnfeld. "Leveraging technology to keep us at the forefront of architecture firms in the Dallas-Fort Worth area and help us compete with larger firms is a perfect example of this. And Dell and Consuro are key to making this possible."
About Hahnfeld Hoffer Stanford
Originally founded in 1963, Hahnfeld Hoffer Stanford has been involved in a wide variety of public and private sector architecture, planning and interior projects throughout Texas. The firm has developed a specialty base in institutional, educational, healthcare, cultural, faith-based and commercial facilities with a strong reputation for providing responsive, quality-oriented projects. The Firm has been a past recipient of the Texas Society of Architects Architecture Firm Award for recognition of distinguished architecture and meritorious contributions to the profession and the community. Learn more at http://www.hahnfeld.com.
About Consuro Managed Technology
Founded in 2008, Consuro is an information technologies managed service provider (MSP) whose comprehensive Windows-based desktop and server management, network administration, computer hardware and software consulting, offsite backup, asset procurement, and other advanced data center solutions serve large and small business clients in many industries from offices in Fort Worth/Dallas, San Antonio, and San Angelo, Texas. To learn more about Consuro, please visit http://www.consuro.com.
###