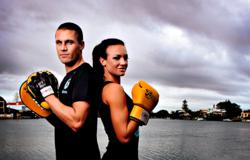 Fitpass is one card, multiple fitness choices, no contracts.
Sydney, Australia (PRWEB) February 22, 2012
Fitness enthusiasts in Australia can now enjoy the benefits of choice and variety, thanks to Fitpass. The company has just launched its service in Australia with a plethora of exciting customer benefits. Fitpass provides a wide array of fitness choices with no contracts and no joining fees and the customers pay only for what they use. This service is perfect for leisure and business travelers who want to access gyms in Sydney and elsewhere in Australia along with yoga classes or personal training sessions during their busy schedule. Fitpass is offering a variety of workout experiences available throughout Australia. To find out more about Fitpass, please visit their website.
Prepaid credits start at $39.95, giving the customers immediate and easy access to all Fitpass venues. The Managing Director of Fitpass Dalibor Ivkovic states, "Unlike paying for a gym membership and then not using it, our customers choose what they want to do, when they want to do it, and they only pay for what they use". Fitpass credits can be topped up at any time and can be refunded when customers decide not to use them. There are no joining fees, no memberships and no lock-in contracts, making this the ideal solution for today's time-pressured society.
Fitpass has a comprehensive network of fitness venues throughout Australia that also offers remedial massage and physiotherapy, in addition to gyms, personal training, yoga classes and bootcamps. Fitpass customers can find the fitness venues of their choice from the company website and start enjoying their services right away. Dalibor Ivkovic states, "Our mission is to provide you with great experience when using our site, and the Fitpass service".
About the Company: Fitpass is a recently launched Australian owned Sydney based company that provides access to multiple fitness choices on one card and no lock-in contracts. The prepaid passes from Fitpass can be used in any fitness and wellness centre in the company's network throughout Australia.
# # #