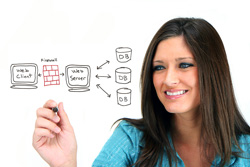 In a world where technology is king and an internet presence is a must IFM Web Services has always been the first choice for my businesses.
R. Kauffman
Toronto
Markham, Ontario (PRWEB) February 22, 2012
Toronto-based Search Optimization company, IFM Web Services, has launched their new website and expanded their range of SEO services. With a newly-launched website, IFM's many business-class SEO services are now available for small, medium and large enterprises that desire more prominence on the internet. Good SEO services are what all businesses with an online presence want to facilitate first-page listings on Google and Yahoo, among other major search engines. IFM's effective strategies, as outlined on their new website, show how IFM can increase qualified website traffic for any business, in any industry with services that are more effective - and fees that are most affordable.
For a legitimate SEO company in Toronto—or any other town or major city—the one issue that can be difficult to overcome is that of the proliferation of spam emails promising unrealistic SEO results for low, or next to no cost. All this spam is more than just a nuisance and can be problematic for legitimate SEO companies. "The problem with all this spam", offers Len Doren, Creative Director at IFM, "is that many people who receive these unrealistic offers from tricksters on the internet, believe the offers to be true." Len further explains, "This can sometimes make it challenging for us to educate prospective clients when they come to us for SEO services. "
Len dispels client's fears and apprehension towards SEO by conveying IFM's 'down to earth' methodology and experience with a practical plan for online success. Len offers, "For example, new clients become more comfortable with our approach when they understand how we use SEO Press Releases for high search engine ranking goals we achieve for our all our SEO clients." Ultimately, dealing with a real-world and sensible approach to generate more qualified traffic, resulting in more opportunities to do business, is something IFM's clients appreciate most.
As outlined on their new website, when IFM takes on a new client, they perform a thorough analysis of both on-page and off-page SEO attributes. Len adds, "If there is no plan for analysis or seemingly unrealistic claims offered by any SEO company, along with abnormally low fees, warning flags should be going up all over. We like to say, if something's worth doing, it's worth doing right—and at a fair price."
Len also notes, "Most business owners tell us about all types of expensive 'lead generation' services they have used along with flyers, mailings, local web directory submissions, and advertising in the Yellow Pages. But most people have yet to find a better service to generate a quicker ROI and a longer-lasting, positive effect when compared to a well-planned, effective SEO campaign." Len further adds, "We know that the Internet is ever-changing and as such, a simple thing like SEO copywriting can offer the average business owner significant website conversions. In terms of a business looking for Search Engine Optimization services in Toronto, for example, there are 10's of thousands of people and businesses using online search engines for pleasure, research and when they are 'ready to buy'. A business must be proactive to capture the attention of those online searchers."
IFM Web Services has been offering Search Engine Optimization and Web Design services since 1999. Located in York Region, IFM helps businesses in Toronto, the GTA and York Region. Some of IFM's clients are located far outside their general service area including Bermuda and Mexico. For more on SEO Web Design for businesses, visit IFM at http://www.ifm.ca
###