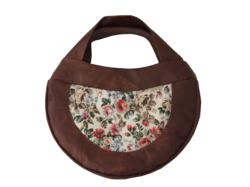 Designer Linda Vydra said, "we have had such a positive uptake of the brand last year, we are excited to see how this range goes. We are currently stocked in 50 selected boutiques around Australia."
Melbourne, Australia (PRWEB) February 22, 2012
Melbourne fashion accessories label Lydra has launched the new Whimsical Romance collection. Produced by the Lydra ladies and made from upcycled leather jackets and interior designer remnants, the products are both socially and environmentally responsible. The range focuses on interchangeable bags that are modular and can be worn in several different ways.
The range consists of the Signature Circle bag that has womanly curves. An oversized clutch that has a detachable flap that can be flipped for different looks, a custom made timber clutch, a sleek leather laptop sleeve and more.
Lydra is designed locally, made locally and has a true Australian feel. Each fabric is unique and limited, with the range this season consisting of a mixture of Japanese prints, florals, and geometric shapes. Click to view the collection.
The brand has an innovative business structure through engaging mature aged members of the community and linking each product with the artisans through in-store displays and QR codes. As well as this the label is exploring the use of laser cutting to improve efficiencies in the manufacturing industry and create intricate design details.
Lydra is the first handbag label in Australia to become ethically accredited. "Too often these days we don't know who or where our products are made." In an industry that encourages ambiguity regarding the conditions under which products are manufactured Lydra is a fresh and socially conscious brand, which won't leave you feeling guilty about your purchase.
###