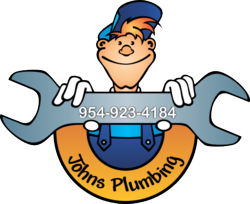 After 27 years in the business, John's Plumbing has the experience you need to guarantee your next plumbing project is handled with expert care and unparalleled workmanship.
Fort Lauderdale, FL (PRWEB) February 28, 2012
John's Plumbing is a reliable and professional company that has been providing quick and efficient bathroom repair and other Fort Lauderdale plumbers services to clients throughout Broward County for over two decades. Their fully licensed and insured team of technicians provide residential and commercial plumbing services ranging anywhere from water heater installation, kitchen sink repairs, and dishwasher repairs, to bathroom remodeling, and toilet and shower repairs and installation. John's Plumbing also specializes in underground leak detection, leak repair, and works closely with insurance companies. They claim they "really can do it all."
When using John's Plumbing, customers can expect a licensed Fort Lauderdale Plumber from the company to arrive promptly, assess the situation, fully explain what the repair will entail, answer any questions, and then put it all down in writing. They even encourage their clients to compare their prices to those of other local plumbing services, to see that they truly do offer the best deals and reliable service. And even more importantly, if the customer happens to find a lower quote, John's Plumbing will not only match the price, but they will beat it! It is with services such as these that they can so strongly pride themselves on creating personal relationships with their clients. John's Plumbing also takes pride in their quick response time, their competency, and their availability. Not only do they fully guarantee their work, but they are available 24 hours a day, with an always open "Emergency Service Line" contact line.
Whether you are searching for licensed Fort Lauderdale plumbers for new remodeling, renovations, a tiny leak, or 24 hour emergency service, John's Plumbing is the answer. They offer free, no obligation estimates, and tackle on a plethora of types of projects including bathroom repairs, video inspections, kitchen faucet replacement, sink drain issues, water heater repairs, supply and drain lines, backflow prevention, and many, many more. Whatever the situation, a certified plumber in Fort Lauderdale from John's Plumbing is sure to handle it, and get it done right and on time, with no hidden costs or fees. And now, with more vehicles, their success and effectiveness can only increase. Perfect timing for the upcoming "World Plumbing Day" celebration on March 11!
Contact:
Louis Rivera
John's Plumbing
Phone: 954-639-9405
###