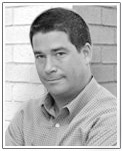 Kates brings over 20 years of financial leadership experience to his role at Underground Elephant.
San Diego, CA (PRWEB) February 21, 2012
Underground Elephant, San Diego's fastest-growing private company in 2011, today announced the appointment of Brad Kates as chief financial officer. Kates most recently served as CFO of Shopzilla and prior to that held several leadership positions with The Walt Disney Company.
Kates will manage Underground Elephant's corporate finances, develop initiatives to streamline the company's internal operations, and assist with an aggressive acquisition plan for 2012. He brings over 20 years of financial leadership experience to his role at Underground Elephant.
"I am excited to welcome Brad to the Underground Elephant team. His hardworking, team-oriented demeanor and experience with some of the nation's most renowned brands make him a perfect fit for San Diego's Best Place to Work 2011," said Jason Kulpa, CEO of Underground Elephant.
"While the scalability of Underground Elephant's global business model within the digital performance marketplace first attracted to me to Underground Elephant, it is the team's unique and exceptional combination of knowledge, hunger, and creativity coupled with Jason's people-first mentality that ultimately made this a place I wanted to be," said Kates. "I look forward to helping the company make a valuable, immediate impact and build upon the tremendous success achieved to date." he said.
Kates holds a Master of Business Administration in Finance and Marketing from J.L. Kellogg School of Management at Northwestern University, and a Bachelor of Arts in Economics and Philosophy from Emory University.
About Underground Elephant
Underground Elephant is a global performance-based marketing technology company that specializes in customer acquisition solutions in a wide range of vertical markets. Our proprietary technology platform, NeoKeo 2.0™, funnels qualified inquires through data-driven algorithms to maximize client ROI and increases conversion propensity.
###