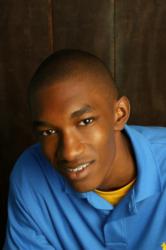 It's students like James Jackson who reaffirm our commitment to helping others reach their college and life goals...
Staten Island, NY (PRWEB) February 21, 2012
James Jackson, a sophomore at Grand Valley State University, Grand Rapids, Mich., has been named the grand-prize winner in MyEducation.com's Come Alive video contest. He plans to use the $2,500 prize money to defray the cost of his tuition.
The video contest was part of MyEducation.com's national TV promotion, which featured a zombie theme that encouraged viewers to "Come Alive with Education." In the commercial, the MyEducation Girl zombie was stuck in a dead-end job until she enlisted the help of MyEducation.com, which connects potential students to colleges, universities, and career schools that are right for them. (Watch it here.)
The "Come Alive" contest challenged aspiring students and career-changers to join MyEducation Girl in the pursuit of education to create better lives for themselves. Entrants were tasked with creating a video of 60 seconds or less that shows how they can "Come Alive" with education – how acting on their academic dreams could change their lives for the better.
Jackson, a film and video production major, enlisted the help of his family to cast a video segment that chronicled the ambition of a student set on becoming a doctor from childhood to adulthood. The main character utilized the resources at MyEducation.com to power his goals.
It was actually his younger brother Justin who inspired the idea, Jackson explains. "That's his current dream – to be a doctor and to be a heart surgeon." Currently in the 8th grade, Justin played one of the roles depicted in the one-minute video. Jackson's younger cousins and father were cast in the other roles.
The 19-year-old student's life goal is to create work that brings to light important issues typically ignored by the mainstream media. "I want to incorporate entertainment with education and raise an awareness that changes people's perceptions in a compelling, narrative film." Among issues he hopes to one day bring to light on film: human interaction and communication, child abuse, and racial reconciliation.
"It's students like James Jackson who reaffirm our commitment to helping others reach their college and life goals," explains Gina LaGuardia, VP of Content Development and Social Media for The CollegeBound Network, which manages MyEducation.com and a number of other education-resource websites. "Seeing how James took an idea from inception to fulfillment was powerful and moving, and one I'm confident will inspire others considering education."
To watch the full video segment, click into MyEducation.com.
About The CollegeBound Network
Since 1987, The CollegeBound Network (CBN) has worked with America's leading colleges, universities, and career schools in connecting learners with educational opportunities. More than 3 million surfers utilize CBN's sites, including MyEducation.com, CollegeBound.net, CollegeSurfing.com, MyGlobalEducation.com, SpaBeautySchools.com, FindTheRightJob.com, and others. CBN specializes in recruitment lead generation solutions for 1,000+ educational institutions and 3,500 campuses using 15+ websites, robust content, a dedicated Student Services division, various social media platforms, daily blogs, etc.
###