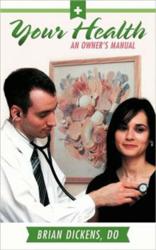 Roanoke, VA (PRWEB) February 22, 2012
With his new book, "Your Health: An Owner's Manual" (published by CrossBooks), doctor of osteopathy Brian Dickens hopes to help readers learn more about their overall health, growing closer to God as they do so.
"As a student and resident, I saw patients being pushed through clinics like products on an assembly line," explains Dickens. "I found that in teaching my patients how to be healthy, they got better results in achieving their goals." He also explains how he's seen God's hand in the lives of his patients. "This is truly inspirational," he says.
"Your Health" is Dickens' way of empowering proactive patients to reach their health goals. He encourages patients to take their physical, mental and spiritual health into their own hands.
Excerpt from the introduction of "Your Health":
"It's your health. Take control of it! You spend fifteen or maybe thirty minutes in the doctor's office for your visit. The rest of the time, you're in charge. How well you do with your health will depend largely upon what you understand about it and what you do about it yourself. Don't get me wrong. Regular follow-ups with your physician are important. My point is that to get the most out of your health, you have to take responsibility for it. This means investing the time and energy to learn some basics, being disciplined to use what you've learned effectively, and being proactive with your health in general. This book is designed to empower you to do this."
"I want readers to be inspired by these stories of healing. I would love for someone to read this book and decide to accept Christ."
About the Author
Brian Dickens, D.O. earned a doctor of osteopathy degree from the West Virginia School of Osteopathic Medicine in Lewisburg. He has trained or practiced in five states and three countries. He is a family practice physician and active in international medical missions. He, his wife and their children live in Roanoke, Virginia.
CrossBooks, a division of LifeWay Christian Resources of the Southern Baptist Convention, is a Christian publishing imprint committed to bringing more Christian voices into the publishing industry. Established authors, first-time authors, and authors anywhere in between can meet their goals and fulfill their vision for their books by publishing with CrossBooks. CrossBooks' innovative style of publishing blends the best of traditional and self-publishing. While our authors contribute monetarily to cover the cost of publishing, we maintain a strict moral and quality standard that every manuscript must meet for us to publish. For more information on publishing your Christian book with CrossBooks, log on to crossbooks.com or call 1-866-879-0502.
###