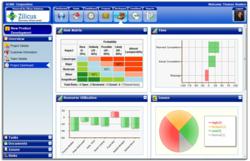 We are extremely excited to launch ZilicusPM. With an intuitive interface, high performance and a cost-effective value proposition, ZilicusPM is the perfect project management software for all kinds of SMBs.
Arlington, VA (PRWEB) February 23, 2012
Zilicus has announced launch of its online project management software - ZilicusPM. Using ZilicusPM, customers can very easily and quickly plan, track, collaborate and deliver projects on the web.
ZilicusPM is a feature-rich project management tool compared with many To-Do list/ task management software available in market. It is simple and cost-effective than overly complex enterprise solutions. For small and medium enterprises, it is just right solution to manage and deliver projects.
BENEFITS:
1. ZilicusPM helps customers manage complex projects through reliable project plans - schedules and resource assignments as well as providing greater visibility into resources, project progress
2. At the same time, ZilicusPM has a very quick learning curve and is immensely intuitive enabling team members to get involved easily & deliver projects on time
3. The entire project team, portfolio managers & executives get real view of progress, health of project through the stylish project- portfolio dashboard, reports
4. With real time update and collaboration, ZilicusPM instills transparency and accountability among project team members; and as a result, everyone can focus on Getting Things Done
5. It is designed as a comprehensive solution with integrated features such as issue tracker, timesheet tracker and risk manager along with document management enabling users to collaborate in a better manner, efficiently manage & execute project deliverables
6. Customer can invite external users e.g. clients and enhance its own credibility by sharing project progress with them
FEATURE HIGHLIGHTS:
1. Create unlimited: projects, external user logins, tasks, milestones, issues, risks and timesheet entries
2. Project Planning: Create Work Breakdown Structure (WBS), tasks, milestones, multi-level & multiple tasks dependency, Gantt Chart and resource management. User can track status for these project activities
3. Team Collaboration: Online project calendar, email notification, timesheet alerts, comments in issues & risks, team members can get shared view of project dashboard, risks, issues and Gantt Chart
4. Real time tracking: As team members update tasks with actual details of tasks, efforts project manager can view variance details through printer-friendly reports
5. Risk Management: Reduce project risks, record risks in risk register, evaluate risk impact (probability & severity), prepare response plan and delegate for actions
6. Document Management- Manage project documents with web-folders, confidential folder, upload & share major/ minor versions of project files, attach labels/ tags to document
7. Issue Management- Easily submit issues/ bugs, pre-configured workflow and multiple reports help customers track issues throughout lifecycle of issues
8. Security and Reliability: ZilicusPM is highly secure as it is hosted in SAS Type II, ISO 27001 certified facility. Additionally, ZilicusPM uses Verisign's SSL security certificate for secured connection, user login credentials are encrypted and document titles are encoded. It will remain available with 99.95% of uptime and data back up scheduled on daily basis.
Users can take 30 days free trial, invite colleagues and set up project-organization (organogram) in ZilicusPM, They can take a advantage of the free trial as it provides complete access to all features of ZilicusPM. Users are charged per month per seat, more details of the ZilicusPM pricing can be found on pricing page.
For next releases of ZilicusPM, company plans to integrate with Google Apps, provide Mobile Interface, MS Project interoperability and many feature that will greatly enhance project management experience.
About Zilicus
Zilicus Solutions is a privately held, technology startup that offers Software-As-A-Services (SaaS) based collaborative solutions. Zilicus has been incorporated with a vision of empowering business users to make effective decisions through Access, Collaboration and Knowledge.
Along with ZilicusPM, company has plans to introduce additional, useful collaborative solutions in near future.
Zilicus has a partner program for resellers as well as an affiliate referral program. It has initiated partnership agreement with resellers in US and other countries.
###