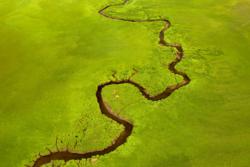 "We want to support photographers who are making a difference in the world," Erick Danzer founder and CEO of Photocrati Media.
Boulder, CO (PRWEB) February 23, 2012
Photocrati announces the third annual Photocrati Fund competition. Photocrati believe in the power of great imagery, and they are excited to play a role in helping photographers cover important topics. The Photocrati Fund offers a $5,000 grant to one photographer each year to focus on a month-long environmental or humanitarian photography project. At the completion of the project, the grant winner's images will be displayed as a photo essay Photocrati.com.
The Photocrati Fund award winner will be selected by a prestigious panel of some of the world's best-known environmental and cultural photographers. Past judges have included Michael "Nick" Nichols, Steve McCurry, Art Wolfe and Jim Brandenburg. The grantee will be announced in June 2011.
"The Photocrati Fund is a rare opportunity for a photographer to gain upfront funding for an important project," says Erick Danzer, founder and CEO of Photocrati Media. "We want to support photographers who are making a difference in the world."
By providing the funds and the space to display the resulting images, Photocrati serves as a platform for both the winning photographer and an important issue, says Danzer.
The 2012 Photocrati Fund competition will run through Sunday April 1, 2011 (11:59pm GMT). Grant applicants should submit a one-page project statement and bio, along with a link to a coherent, themed, online portfolio of 20-30 images to fund(at)photocrati(dot)com. For complete Photocrati Fund rules and guidelines please see visit the Photocrati Fund page at Photocrati.com. To view information on Paul Colangelo, the 2011 Photocrati Fund Fellow, and top finalists Robin Hammond and Matt Eich, please visit 2011 Photocrati Fund blog post on Photocrati's Blog.
About Photocrati Media
Photocrati Media is a digital media company that specializes in WordPress themes for photographers, SEO for photographers, and other resources for photographers. Photocrati Media also runs Best of Wedding Photography, an elite, invitation-only association of the best wedding photographers in the world; Photographers SEO, which offers powerful resources for photographers; SevenbyFive.net, an awesome online community for photographers; DSLRBlog, a phototoblog about images and their stories, and several other great sites. Photocrati Media proudly sponsors the Photocrati Fund – a $5,000 grant for photographers working on important environmental and humanitarian projects.
###