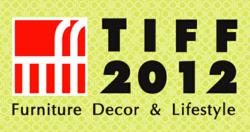 (PRWEB) February 22, 2012
Event Name: Thailand International Furniture Fair 2012 (TIFF 2012)
Duration: March 14th-18th, 2012
Venue: Bangkok International Trade & Exhibition Centre (BITEC), Bangna ,Bangkok, Thailand
Organized: Royal Thai Government, Office of Export Promotion Activities
Tel: +66 (0) 2507 8363, 507 8361, 507 8364
Fax: +66 (0) 2547 4281, 547 4266
E-mail : tiff(at)depthai(dot)go(dot)th
Website: http://www.thaitradefair.com/2012/TIFF/
Supporters:
1. Thai Furniture Industry Club, The Federation of Thai Industries
2. Thai Furniture Industries Association
Exhibit Profile:
FURNITURE

Bedroom Furniture
Children Furniture
Dining Tables & Chair
Casual Furniture (Outdoor/Garden/Summer/Rattan etc.)
Living Room Furniture
Office Furniture
Upholstered Furniture
Local and overseas manufacturers/exporters
INTERIOR FURNISHING & ACCESSORIES

Bathroom Furnishing
Kitchen Furnishing
Build-in parts of Interior (Wallpapers, Stairs, Windows & Doors, Blinds, etc.)
Carpets
Flooring
Lighting
Home Décor
MATERIALS & PARTS
OTHERS
Highlights of TIFF 2012 include:
T-Style in Thailand: A joint project led by the Department of Export Promotion, Ministry of Commerce, Thailand, incorporating the talent of the renowned Japanese designer Toshiyuki Kita. Under the theme of "Ecological & Elegant," T-style contains 'state of the art' furniture items from leading Thai companies and represents a completely new perspective of interior design with the various eco-friendly materials Thailand has to offer.
Waste to Wealth: It's time to help fight against global warming and make the best out of what is commonly seen as waste materials. This year's 4th Waste to Wealth exhibition aims to promote better and more sustainable waste management. Spearheaded by Dr. Singha Intarachuto, Thailand's renowned waste material designer, the project specializes in adding value and turning seemingly waste materials into distinctively designed furniture and home decorative items.
Design Camp: This year's 4th Design Camp enjoys collaboration from leading educational institutes and professional designers. The project aims to provide university students with the opportunity to learn first-hand how furniture is designed and made in real-life environments from experienced gurus in the field.
###