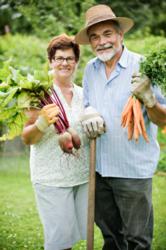 respondents were more likely to be over the age of 35 as well as married
Burlington, NJ (PRWEB) February 22, 2012
Seeds of the Month Club retailer, Mike the Gardener Enterprises, recently released their study findings on who in the household does the most vegetable gardening.
According to study findings, over 70% of the respondents who said they were the primary care taker of a vegetable garden at home, were female, and that more than 55% have had a vegetable garden for more than 5 years.
"We are not surprised by the numbers," said Mike the Gardener owner Michael C. Podlesny. "We have consistently seen a larger female than male customer base in our own Seeds of the Month Club."
Rounding out the study, which was conducted through their Vegetable Gardening Facebook page, respondents were more likely to be over the age of 35 as well as married.
"I thought for sure that we would see a large contingent of younger people moving toward vegetable gardening, but that demographic was less than expected," said Podlesny. "Hopefully that changes over time as more people discover how beneficial growing your own fruits, vegetables and herbs from seeds can be."
###