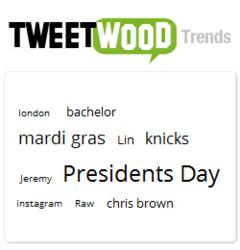 (PRWEB) February 21, 2012
Tweetwood presents twitter trends by celebrities. Trending topics on twitter have always been an indicator of what's hot and happening. Trends on Tweetwood are different from Twitter trends as they are based on celebrity tweets which are a better measurement of popularity. The proprietary algorithm behind the Tweetwood trends analyzes the tweets by celebrities over a period of time and filters out the fickle trends to give you a crisp set of real time twitter trends.
Tweetwood is the largest celebrity portal based on Twitter. Tweetwood recently released sub portals to cover Canadian and UK celebrities on Twitter. The site was already covering US and and Indian celebrities on Twitter. With 3000 Twitter celebrities and counting, Tweetwood covers almost every celebrity present on Twitter.
The categorization of celebrities based on the country and area of expertise makes it easy to track one's favorite celebrities on Twitter. Whether a user wants to follow the Film actors on Twitter or Footballers on Twitter, Tweetwood is the best companion.
Conversation between celebrities through tweets is another unique feature on Tweetwood. Watch the celebrities feuding, romancing or simply chatting on Twitter. Tweetwood displays the celebrity conversations on Twitter in a familiar time-line format. A lot of new features are scheduled to be released on Tweetwood next month so please stay tuned.
About Manusis Technologies
Manusis Technologies is the leading web application development company in India. Manusis specializes in building scalable, interactive and social web sites and mobile applications. The applications developed by Manusis are cross browser, cross platform and uses the best coding practices and Extreme programming guidelines. Manusis is responsible for building the back-end for some of the big sites like Gdgt, Designbyhumans, AOC to name a few. The agile Manu framework and state of the art ManuCMS helps in rolling out big standards compliant sites quickly.
# # #