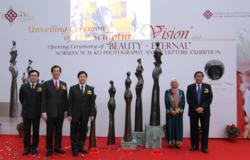 (PRWEB) February 22, 2012
The Hong Kong Polytechnic University (PolyU) is pleased to have received a set of five special sculptures titled "Vision" from renowned sculptor Professor Norman Ko Wah-man as a gift for its 75th anniversary. The masterpieces were unveiled on 16 February by the Honourable Stephen Lam Sui-lung, Chief Secretary for Administration of the HKSAR Government.
The unveiling ceremony was held on the university campus near Shaw Amenities Building where the sculpture is displayed permanently. Other officiating guests of the ceremony included Professor Norman Ko Wah-man and his wife Mrs Wendy Ko; Professor Timothy W. Tong, PolyU President; and Professor Michael Tse, Chairman of PolyU Culture Promotion Committee.
Addressing the ceremony, Professor Tong thanked Professor Ko for the generous gift and for supporting the university's endeavours in promoting arts and culture. He said, "Apart from this donation, Professor Ko also shows his support to PolyU by devoting his time and sharing his talents with our students. We hope the installation of the sculpture and the range of related activities will broaden our students' artistic and cultural vision, contributing to their all-round development."
Professor Ko is also serving as Artist-in-Residence at PolyU this year. From now until 3 March at the entrance foyer of Jockey Club Auditorium, his latest sculpture series "Female Head" and over 150 of his photos capturing the beauties of different races will be showcased in the "Beauty – Eternal" Norman W. M. Ko Photography and Sculpture Exhibition. The exhibition is free and open to members of the public. Professor Ko will also run a series of workshops on sculpting techniques for PolyU participants.
Professor Norman Ko is an expert in the mechanical engineering field. Yet, he has multiple talents in photography, underwater photography, painting and sculpting. He began creating sculpture in 1979 and has since received numerous awards for his works both locally and overseas. He is also a well-known underwater photographer who has held one-man exhibition of his underwater photographs.
Before the ceremony concluded, students of Chun Tok School gave a dance performance.
Press contact: Mrs Ivy Leung
Culture Promotion and Events Office
Tel: (852) 2766 7200
# # #