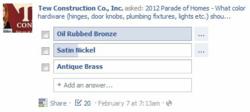 Crestview, FL (PRWEB) February 23, 2012
Tew Construction, a family owned home builder and real estate developer in Crestview, FL, are using an innovative design strategy in building this year's entry in the annual Parade of Homes. Through a series of Facebook polls, Tew Construction is building a social media customized house with everything from the doorknobs to the insulation being picked by visitors to the homebuilder's Facebook page. Dubbed "The House That Facebook Built" the customized home will be finished in time for the 33rd annual Parade of Homes exhibition, the premier home builders' exhibition of Okaloosa and Walton counties in Florida.
The idea began after Tew Construction President, Jeri Tew-Toolan, candidly posted a poll on Facebook to decide what material the new home's fireplace would be built with. After an overwhelmingly positive response, Jeri began to offer more questions to the Facebook community concerning the style, material, and colors for the new home. Popular topics of customization have been the color of marble in the bathrooms, material for the shingles, and what to make of the extra room included in the design.
Tew Construction has been very excited at the community's response to their social media experiment. Jeri often updates the page with new information about home builders, as well as turning to the Facebook community for any new design questions. Tew Construction is striving to make as much of the home customized as possible. Future topics of polling will include aesthetic choices such as wall painting and flooring choices. Concerning her Facebook followers, "I want them to be as involved as they can" Jeri remarks, "I want them to be looking for the next question."
Completion of "The House That Facebook Built" will be in time for the Florida Panhandle's Parade of Homes exhibition. The event is presented by the Building Industry Association of Okaloosa and Walton counties, and will last from June 9th to the 17th. The event's 33rd annual incarnation is the spotlight home builder's show in the area that encourages the participating companies to show off their best in craftsmanship and innovative design. A completion party at the actual "House that Facebook Built" will be hosted by Tew Construction during the week of the exhibition. All of the participants involved in the design process will be invited to see the house that they had a hand in creating.
About the Company
Tew Construction has provided the Florida Panhandle area with beautifully crafted homes for sale and integrity in real estate for three generations. Tew Construction specializes in quality craftsmanship and customization with regards to their customer's needs. They've cultivated relationships with the leading suppliers, contractors, and mortgage lenders of the area, making Tew Construction a powerful ally as a home builder. Tew Construction proudly serves the Crestview, Fl, Niceville, FL, and Fort Walton, FL, areas.
###